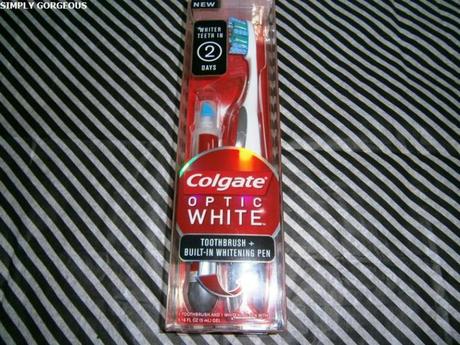 Happy Friday! After a busy and crazy week I am finally feeling better and I am back with a review for you all. For Christmas I received this Colgate Optic White Toothbrush + Built In Whitening Pen and I have been using this for a couple of weeks now and I thought I would come and share my thoughts with all of my lovely readers, so if you are interested then keep on reading for all the deets.
Review: Colgate Optic White Toothbrush + Built In Whitening Pen
Description: A convenient and affordable way to get whiter teeth in just two days. The Optic White Toothbrush + Whitening Pen.
Directions:
1. Brush. Brush with regular toothpaste. Specially designed polishing bristles and stain removers.
2. Whiten. Apply Gel. It takes only seconds to apply and adhere to your teeth. No waiting. No rinsing.
3. Go. Store pen inside of brush.
For best results, use 2 times daily and continue to brush daily and use gel as needed until gel pen is empty. Start using a new Optic White Toothbrush + Whitening Pen every 3 months.
Price: $15.99
Pros:
Medium bristle brush and whitening pen
Provides deep whitening
All in one solution
Effective
Brighter smile
Cons:
I use this product twice a day in the morning and at night and I saw results immediately and I was so shocked and surprised–I mean who doesn't want a beautiful and bright smile, I know I do! I am so glad that I was given this because it does the job and it is quick, easy and pain-free. I have heard horror stories about other whitening systems and I am not here for it so I am glad that this is something that I can do in the privacy of my own home whenever I feel like I need to also you can purchase this at your local drugstores so it's not like to have to make appointments and go to your dentist which is really nice. My teeth looked whiter and brighter after just a few days of using this and it was noticeable so I am beyond thrilled with the results and I will definitely be picking up another one in a month or so to keep up the results. A couple of months ago I was sent another whitening system to try out and it was an epic fail so I am so glad that I have found something else to use that actually works. I recommend this product to all of you because it's amazing and I know you will be happy with the results just like I am :) this is great-like go out today and pick this up you won't regret it, I promise!
This Colgate Optic White Toothbrush + Whitening Pen is Simply Gorgeous Approved!
What teeth whitening system or products do you use? Let me know in the comments.
Stay Connected!