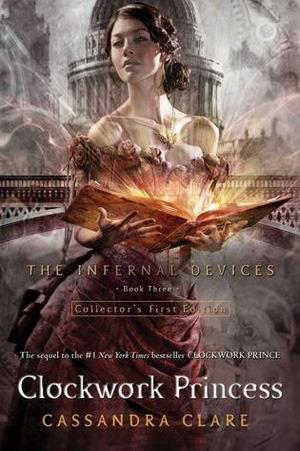 Title: Clockwork Princess
Author: Cassandra Clare
Edition: hardcover
Series: Infernal Devices #3
Released Date: March 19th, 2013
Publisher: Margaret K. McElderry Books
Goodreads
/
Amazon 
Danger and betrayal, secrets and enchantment in the breathtaking conclusion to the Infernal Devices trilogy.
Tessa Gray should be happy - aren't all brides happy?
Yet as she prepares for her wedding, a net of shadows begins to tighten around the Shadowhunters of the London Institute.
A new demon appears, one linked by blood and secrecy to Mortmain, the man who plans to use his army of pitiless automatons, the Infernal Devices, to destroy the Shadowhunters. Mortmain needs only one last item to complete his plan. He needs Tessa. And Jem and Will, the boys who lay equal claim to Tessa's heart, will do anything to save her.

There comes a time where you're just so excited for a book, but you're afraid to pick it up because you know it's the end. Sticking with characters for three years is a feat in itself, but it's even more difficult to say goodbye to these characters. I know that by allowing these character to leave, it allows more characters to be brought into my heart, but it's still sad. 
I know that anything I would say would be a spoiler, so I'm going to try and filter as much as I can. 
This book tore my heart out, chopped it up, sewed it back up, shoved it back into my heart, and repeated itself. Numerous times. I'd be crying, and then I'd be swooning, and then I'd be sitting on the edge of my seat. It's impossible to make any coherent conjectures about what I truthfully thought about this book. It was like traveling to hell and back. 
This book had less action that some of the other books Cassandra Clare had written, but I'm okay with that. I originally thought there was going to be just one fight scene at most, and then there was going to be a bunch of tying up loose strings to end the series. The book did that, but it did so much more. 
The ending of this book really got to me. I still can't decide if I'm Team Will or Team Jem. I get the butterflies when thinking about either of them with Tessa. I'm kind of confused what happened in the end, honestly. I'm hoping to find more about what really happened in the Dark Artifices. I mean, I understand what happened with Will, but with Jem? What the hell? That epilogue really screwed up my mind. 
I have to say, I loved how this series turned out. I loved all the underlying secrets and scenes that carried over into the Mortal Instruments, and I'm excited to see how they carry over to the Dark Artifices. I'm just interested in anything that Cassandra Clare has to offer, even if it makes me cry rivers and seas and oceans and other other type of large body of water. 
Yeah, I loved this series.