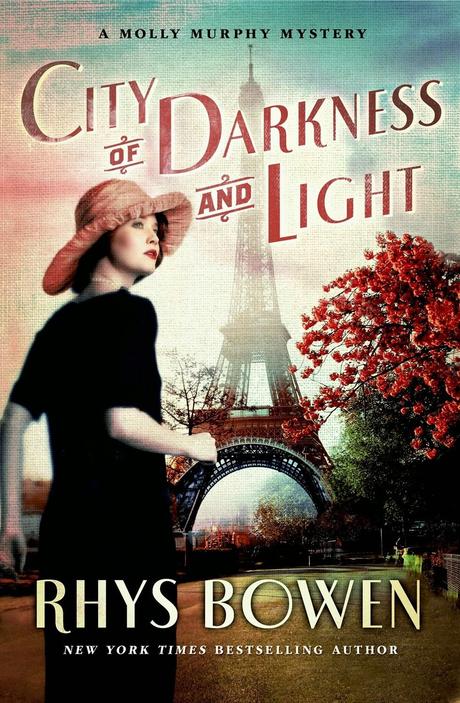 Description (from cover):
'Molly and Daniel Sullivan are settling happily into the new routines of parenthood, but their domestic bliss is shattered the night a gang retaliates against Daniel for making a big arrest. Daniel wants his family safely out of New York City as soon as possible. In shock and grieving, but knowing she needs to protect their infant son, Liam, Molly agrees to take him on the long journey to Paris to stay with her friends Sid and Gus, who are studying art in the City of Light.
But upon arriving in Paris, nothing goes as planned. Sid and Gus seem to have vanished into thin air, and Molly's search to figure out what happened to them will lead her through all levels of Parisian society, from extravagant salons to the dingy cafes where starving artists linger over coffee and loud philosophical debates. And when in the course of her search she stumbles across a dead body, Molly, on her own in a foreign country, starts to wonder if she and Liam might be in even more danger in Paris than they had been at home.
As Impressionism gives way to Fauvism and Cubism, and the Dreyfus Affair rocks France, Molly races through Paris to outsmart a killer in the most spectacular Molly Murphy novel yet.'
My thoughts:
I simply cannot get enough of this series and this author. I love this author and read all of her series. She has a quirky sense of humor and funny main characters. This series is near and dear to my heart and reading every book is simply like catching up with an old friend. I love Molly and her adventures and they always keep me on my toes. Her friends are smart, sassy and unique and I love to see how Molly adapts to her new role as a wife and a mother all while solving crimes of course. Her husband, Daniel is a police detective in New York City and when a dangerous gang threatens the life of Molly and her son, Daniel wants them to leave the city and spend some time in Paris with Molly's friends Sid and Gus. And because who would turn down a chance to be in one of the most beautiful and romantic cities, Molly decides to go.
When she arrives, she learns that her dear friends are missing and she sets out trying to find out where they are. Of course, she struggles as she is in a foreign country and not very familiar with the language, but true to her instincts, Molly survives just fine. She finds some new friends along the way that help her navigate the confusing streets of Paris and she just so happens to stumble across a dead body. Well if you know Molly, she can't leave the murder investigation behind. She thinks that her friends might have somehow become mixed up in the murder and she does all she can to solve the mystery of the murder and where her friends have gone. A lot of historical people tend to pop up in this book and it is interesting to see how they play into the storyline.
I simply cannot get enough of these books. The author cannot write them fast enough to please this reader. This series has a special draw to it and I have heard a lot of other readers stating that this is one of their favorite series as well. I know that is true for me. Bowen has a unique way of writing that captures the heart of the reader with the quirky characters and leaves one begging for more. Another great read created by Ms. Bowen and all I can say is, when will the next one be coming out?


Overall Rating: 5


Title:  City of Darkness and Light
Author:  Rhys Bowen
Series:  Molly Murphy Mystery #13
Publisher:  Minotaur Books
Publication Date:  March 4, 2014
Pages:  318
Genre:  Historical Mystery
Get It:  Amazon; Barnes & Noble
Disclaimer: This book was selected from the library by myself and I reviewed this book without compensation of any kind. All thoughts and opinions are solely mine.