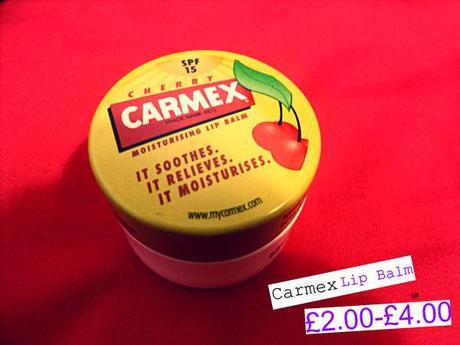 My lips hate the winter months and dry up at the drop of a hat, which is ridiculously annoying when I wear lipstick on an almost daily basis. Flaky lipstick is a big nono. So how do I prevent the horrible dry look? I turn to my good ole' friend Carmex.
I love anything cherry flavoured, so Carmex is a winner with it's cherry fragrance. It feels quite tingly when first applied but you soon get used to the feeling. If you're quite sensitive to fragranced products, you might want to test a little bit before taking the plunge! Unlike some lip balms (especially the stick versions), it almost instantly moisturises after only a small application. As a result it forms a great base for lipstick, which also enchances the overall gloss/matte finish of the color you choose to wear on top. I don't think it makes any difference to the length of wear, but I don't know whether that's because the lipsticks I use are generally quite long lasting regardless.4
It is also SPF15, so use can be transitioned to the summer months to protect your smackers from the harsh UV rays of the sun - yes, even your lips need a bit of sunscreen!
The price really depends on the retailer. You can pay from around £1.92 on Pharmacy Plus up to almost £4 at Topshop, so shop wisely as some stores will cheat you out of money when they have no real reason to ;) It also comes in a squeezy tube, which makes application easier if you don't like the idea of using a pot. I'd thoroughly recommend it if like me, the winter is a harsh time for your lips and you want them to be kissably soft again with the minimum effort.