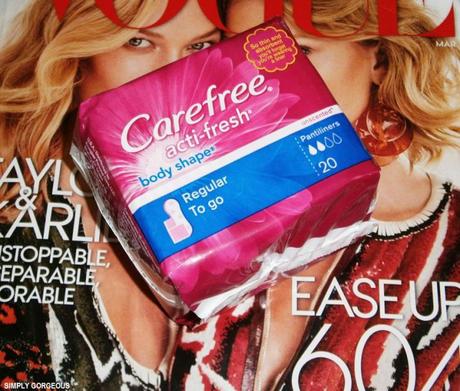 Happy Tuesday! I know it's been a while, I have been sick for the past week :( I'm still recovering but I feel a little better now so I'm back with another #review post–something just for the ladies :). About a week ago I received these carefree body shape pantiliners via #influenster and today I am sharing my thoughts with you all. If you are interested then keep on reading.
Review: Carefree
Description: Carefree Acti-Fresh liners are super absorbent to lock fluid away. Our process results in a thin, absorbent liner that feels as soft as your panties. The fibers in each carefree Acti-Fresh liners cover are bonded together to give you a soft, cotton like feel that moves with you. Peace of mind is built into every Carefree Acti-Fresh liner. Our unique odor control system gives you that extra boost of confidence when you need it.
Directions: Remove plastic/paper backing. Press Carefree pantiliner firmly into panties. Do not flush.
Price: $6.97
Where to Buy:
Walmart
Amazon
Target
Walgreens
CVS
Pros:
8 hour odor control
Affordable
Easy to use
Comfortable
Soft
Absorbent
Unscented
Cons:
When I received this product I was interested in trying these out because typically I do not wear panty liners so I wanted see what the hype is all about. When I finally tried them I actually like them are very comfortable to wear it literally feels like you are not wearing one–which I love. These panty liners are for soft and easy to use which is always a plus and I also really love that they are unscented. I do not wear these on a daily basis or anything but I think they are great to have around in case you want to wear them. Also one pack contains 20 liners and they are perfect size to through in your bag when you are on the go.  I definitely recommend this product to all of my lady followers, give this a try I think you all will like it. This product was sent to me by #influenster however, I will purchase these in the future.
These Carefree Acti-Fresh Pantiliners are Simply Gorgeous Approved!
Have you tried and products by Carefree? Let me know in the comments.
Stay Connected!
Twitter | Facebook | Instagram | LinkedIn | Google +
I received these products complimentary from Influenster for testing purposes.