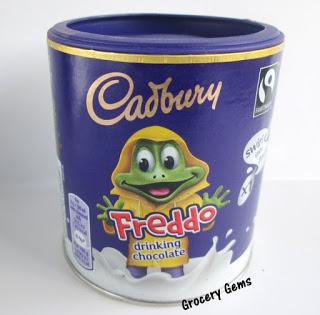 The weather is super crazy hot where I am so what do I decide to review? That's right - hot chocolate. But it's not the only reason why this review is a total fail. It's also because I fell for an annoying marketing trick - rebranding an existing product to make it look different. Is this Cadbury Freddo Drinking Chocolate different from any other Cadbury Drinking Chocolate? The answer is - nope.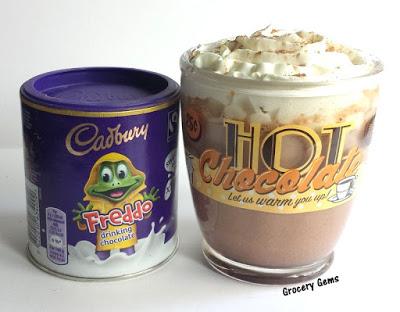 The ingredients listed are exactly the same on this Cadbury Freddo and the standard Cadbury Drinking Chocolate; Sugar, Cocoa Powder (minimum 25%), Salt and Flavourings. It's not very specific so perhaps some of the quantities are different. Anyway, there are sadly no little solid chocolate Freddos in the chocolate powder (like Mars did with their awesome Magic Stars Hot Chocolate). 
The flavor of the Cadbury Freddo Drinking Chocolate is also extremely weak. The instructions on the side recommend only ONE spoon of powder in 200ml of hot milk. I was hopeful that this could mean a stronger flavor. Well, I can confirm that all it gives you is a slightly sugary cup of hot milk. Even three spoonfuls later only released a hint of chocolate flavor that is far too sweet. I mainly bought this for my young son, who I suspect this product is aimed at rather than me, and he also said it needed more chocolate flavour!
Grocery Gems Review: Cadbury Freddo Drinking Chocolate

RATING

: 4 out of 10.


Buy them again?: No.


Nutrition (per serving)

: 120

 calories (6g + 200ml of milk)

.

Purchased

: Tesco.

Price

: £1.00p for 175g (on offer).