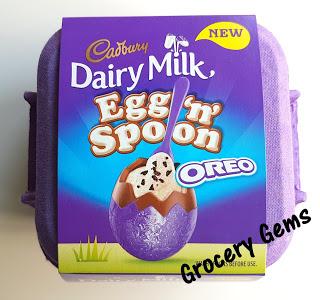 It's the start of a new year so that only means one thing - it's time for Easter! Amongst all the usual Easter products that are now appearing in the supermarkets is this new gem - the Cadbury Dairy Milk Egg 'n' Spoon Oreo.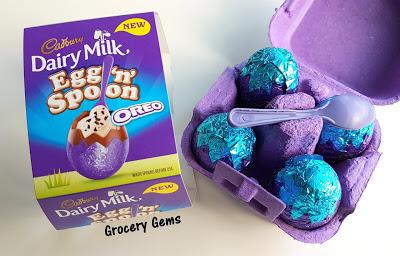 Just like previous products in the Cadbury Dairy Milk Egg 'n' Spoon range, there are four mousse-filled chocolate eggs in a purple carton.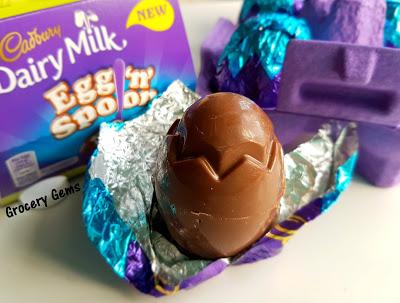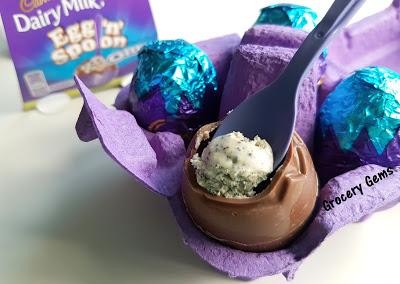 Inside the Oreo egg is a soft vanilla mousse filling with Oreo Biscuit pieces. The mousse has quite a thick texture but it's still soft enough to be spoonable. The biscuit pieces add plenty of crunch to the texture and work perfectly with the sweet and creamy flavor. It's all extremely sugary, especially with the Cadbury Dairy Milk chocolate outer egg, but the creaminess balances out the flavours and creates a lovely sweet treat. 
As a fan of the Cadbury Dairy Milk with Oreo chocolate bar (which is one of the few Cadbury products I buy anymore), I'll definitely be buying a few more packs of the Egg 'n' Spoon Oreo closer to Easter. I'd take these over a  Cadbury Creme Egg anyday! 
Grocery Gems Verdict: Cadbury Egg 'n' Spoon Oreo
RATING: 7 out of 10
Buy them again?: Yes.


Nutrition (per egg 34g)

: 191

 

calories

.


Vegetarian: Suitable for vegetarians symbol on pack.


Purchased

:

 Co-Op


Price

: £2.00p.