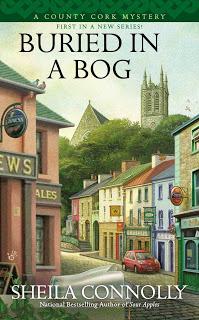 Description (from cover):
'National bestselling and Agatha Award-nominated author Sheila Connolly introduces a brand-new series set in a small village in County Cork, Ireland, where buried secrets are about to rise to the surface...
Honoring the wish of her late grandmother, Maura Donovan visits the small Irish village where her Gran was born--though she never expected to get bogged down in a murder mystery. Nor had she planned to take a job in one of the local pubs, but she finds herself excited to get to know the people who knew her Gran.
In the pub, she's swamped with drink orders as everyone in town gathers to talk about the recent discovery of a nearly half-century-old body in a nearby bog. When Maura realizes she may know something about the dead man--and that he might be connected to another, more recent, death--she fears she's about to become mired in a homicide investigation. Maura has a sinking feeling she may really be getting in over her head.'
My thoughts:
I really enjoyed the Irish setting of this cute cozy mystery. It was something a little different from the normal cozy mysteries that I read and I felt like it was overly refreshing. Connolly does a fantastic job of creating the scene in a small town in County Cork, Ireland, where I just wish I could roam. It sounds absolutely beautiful and I really enjoyed escaping to a different country while reading this one. Maura Donovan, a native of Boston, decides to honor her grandmother's last wish by visiting where her grandmother was born and raised. She's not exactly sure what to expect and what she is doing, but she knows that she must honor her grandmother's wishes before moving on with her own life. Maura arrives in Ireland and is shocked to feel like she has arrived home. She soon becomes a part of the small town when she starts working at the local pub and soon finds herself involved in some local murder mysteries.
I thought that this was a cute book, however, I did have some issues with it. First off, everything happened a little too easily for Maura and that bothered me a little. The mystery in this one was barely existent. The murders are solved so easily, that it really wasn't all that entertaining. The thing that kept me most interested, probably, was the setting. Connolly did a fantastic job of creating the scene in this one and that is most likely what kept me reading to the end. There was a lack of suspects and not a lot of mystery going on. Maura seems to find herself in somewhat dangerous situations, for no apparent reason, and it really doesn't make a whole lot of sense to the reader. I understand that this is the first book in the series and a lot of set up has to happen in order to create the series and the characters and their backgrounds, but this so-called 'murder mystery' was boring. If you want to read an engaging murder mystery, this is not the book for you.
I will continue with the series because I seriously hope that this is a case of the debut blues and that Connolly will create something out of this series. It really does have a lot of potential because I don't think that there are a lot of cozy mystery series set in Ireland. Connolly is a pretty well-known author in the cozy mystery genre and quite frankly I was a little surprised that this one was lacking. I haven't read any of her other mystery series, so I can't properly judge her writing and weigh it against this one. A great read if you want to learn about Ireland and imagine you are on your own Irish sightseeing tour, but if you're looking for a great mystery skip this one.


Overall Rating: 2.5


Title:  Buried In a Bog
Author:  Sheila Connolly
Series:  County Cork Mystery #1
Publisher:  Berkley
Publication Date:  February 5, 2013
Pages:  304
Genre:  Cozy Mystery
Get It:  Amazon; Barnes & Noble
Disclaimer: This book was selected from the library by myself and I reviewed this book without compensation of any kind. All thoughts and opinions are solely mine.