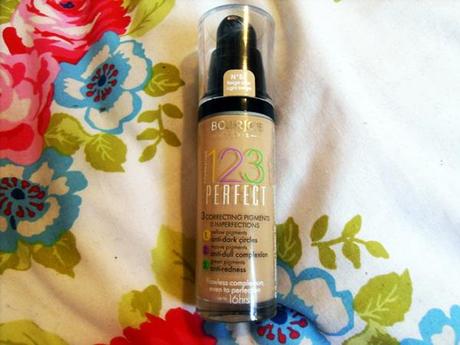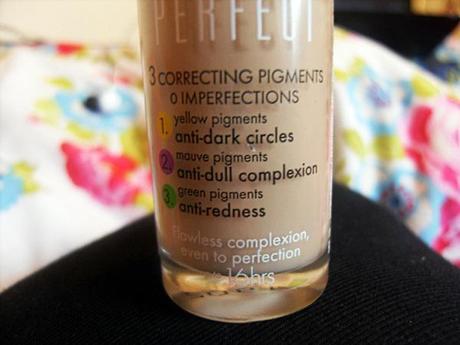 Currently £6.99 in Boots, RRP £10.99
Make-up products like foundation are very much of a personal preference to people, so don't take my review as the definitive guide - I have a relatively even skin tone apart from some scarring from spots. My skin is combination, with oilier skin around my T-zone.
There has been quite a bit of blogger buzz about this foundation, with quite a mixed response. I am one of the bloggers that is definitely giving the product a thumbs up! As the product description states, the foundations contains 3 correcting pigments - yellow to reduce the appearance of dark circles, mauve for eliminating dull complexion and green to reduce redness. It is also SPF10 (always a bonus, especially with the summer months coming, if England ever sees the sun again) and claims to provide 16 hour wear with hydration. I've been wearing the foundation for around a fortnight now, and have been overall very pleased with the results.
COVERAGE/FINISH
The coverage is light and not the easiest to build up, but to be honest I found that just using one pump gave me the finish that I desired. It has a semi-matte finish on the skin, which I personally don't mind and feels light and fresh on the face - the consistency from the pump is quite thick for a liquid foundation but doesn't feel it all once it has been applied. I have heard that it can be clingy to dry patches of skin, but in my case I discovered it reduced the appearance of them! I wear 53, which is a light beige. The only problem with the range is that I am one of the darker shades, so those with darker skins will have trouble finding a color.
CORRECTING PIGMENTS?
 I'm not entirely sure how much truth is in the 1.2.3 pigment claim (surely the colours would have to be applied separately? I love green blemish sticks, they're my saviour) but it definitely reduced the appearance of my blemishes (without the assistance of aforementioned green stick) and evened out my skin tone, giving me a fresh faced look.
WEAR
I
haven't left it on for 16 hours, but it has lasted all day when I've been out and about in all weather conditions with minimal loss of coverage - I generally mess foundation up myself by stroking my face (yeah, sounds weird) but this didn't seem to have any effect.
Overall, I am definitely a fan of the foundation and believe the claims that Bourjois have made are actually almost totally true! However, from reading other reviews, it is a hit and miss affair depending on your skin, so make sure that you test it out before you buy - it is currently discounted in Boots stores at £6.99, so it's well worth snapping up.