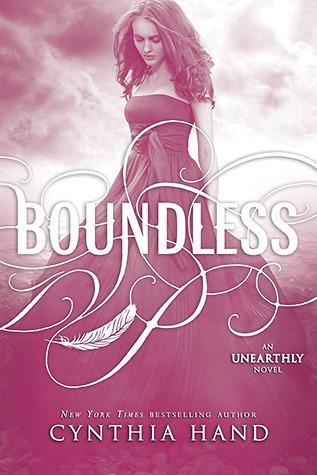 Title: Boundless
Author: Cynthia HandEdition: hardcoverSeries: Unearthly #3Released Date: January 22nd 2013Publisher: HarperTeen

Goodreads

/

Amazon 

The past few years have held more surprises than part-angel Clara Gardner could ever have anticipated. Yet from the dizzying highs of first love, to the agonizing low of losing someone close to her, the one thing she can no longer deny is that she was never meant to live a normal life.




Since discovering the special role she plays among the other angel-bloods, Clara has been determined to protect Tucker Avery from the evil that follows her . . . even if it means breaking both their hearts. Leaving town seems like the best option, so she's headed back to California - and so is Christian Prescott, the irresistible boy from the vision that started her on this journey in the first place.




As Clara makes her way in a world that is frighteningly new, she discovers that the fallen angel who attacked her is watching her every move. And he's not the only one. . . . With the battle against the Black Wings looming, Clara knows she must finally fulfill her destiny. But it won't come without sacrifices and betrayal.




In the riveting finale of the Unearthly series, Clara must decide her fate once and for all.

It's always sad seeing a series come to an end, especially one that you started at the beginning of your blogging years. The Unearthly series was that series for me, and I somewhat dreaded reading Boundless. I'm really glad I picked it up because Boundless was an enticing read and a great wrap-up to the wonderful series.
In Boundless, after a dreadful break-up with her boyfriend Tucker, Clara moves to Stanford with her best angel-friend Angela, and practically her soul mate, Christian. She always finds herself thinking of Tucker, and even showing up at his barn in some scenes due to her new talents.
Clara has to be one of the most consistent characters I have ever read, and I'm grateful for that. She stays strong and loyal throughout the course of the book. The only difference is that she learns more about herself and about the way she is supposed to be. With Christian, he kind of wavered back and forth between being his super-amazing-angel-person, to trying to be a normal teenager. I have to say that I really like Clara and Christian's date scene, except for the ending of the scene, of course. Then there was Tucker. There was an extreme lack of Tucker in this book, but I feel like it was okay. It gave room for Christian to shine, and show that he was a great partner in crime. Otherwise, Tucker reminded me a bit of my own boyfriend (minus the country-guy). I really liked the scene at the grocery store and the many other short scenes between these two characters.
Ah, the ending. I rarely finish series because I hate to see how they end, but this was done exceptionally well. It was a happy ending and there wasn't any open-air questions. Everything was tied up nicely in a little package called the epilogue! It was nice, because it kind of seemed like a little party and all the characters were apparent and it was easy to tell how the years in between went for them.
I don't want to ruin this for anyone, so I'm going to cut this review short. If you haven't started this series, you should definitely do so now. If you haven't read Hallowed or Boundless yet, get on that! You need to see what happens to the rest of these wonderful characters!