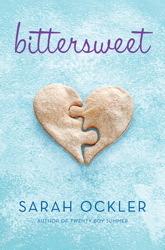 Title: BittersweetAuthor:

Sarah Ockler

Edition: hardcoverSeries: noneReleased Date: January 3rd, 2012Publisher: Simon Pulse
Goodreads

/

Amazon Once upon a time, Hudson knew exactly what her future looked like. Then a betrayal changed her life, and knocked her dreams to the ground. Now she's a girl who doesn't believe in second chances... a girl who stays under the radar by baking cupcakes at her mom's diner and obsessing over what might have been.
So when things start looking up and she has another shot at her dreams, Hudson is equal parts hopeful and terrified. Of course, this is also the moment a cute, sweet guy walks into her life... and starts serving up some seriously mixed signals. She's got a lot on her plate, and for a girl who's been burned before, risking it all is easier said than done.
It's time for Hudson to ask herself what she really wants, and how much she's willing to sacrifice to get it. Because in a place where opportunities are fleeting, she knows this chance may very well be her last...
An empty ice skating rink, a cupcake queen, a torn apart family - all as a result of the bra. Hudson's father left her a few years ago, breaking her family part. The only thing holding them together is the diner that Hudson and her mom work at.
One of my favorite parts was the way I could relate to Hudson. We were completely different people: different hobbies, different ambitions, different family life - yet I found the fact that we were both teenage girls to be the key point. Hudson resembles a girl with struggles in life, but still manages to stay strong. She's indecisive, strong, and confused. What teenage girl doesn't share similar qualities?
The romance in this book could be ramped up a bit, but I thought it was cute! Well, I thought Josh was cute. Not Will. Her relationship with Josh was so innocent and meant well. It was fun to see them interact and joke around. With Will, it kind of brought a new side of Hudson. This was a side that I didn't really like about her. She rushed into things with him and almost brought out the clingy, bitchy, girlfriend. The chapters where she was with Will kind of pissed me off.
I really liked how the whole friendship played into the novel. Dani is Hudson's best friend, and the relationship between Dani and Hudson was flawless. They didn't always get along, but they knew they still were going to end up best friends in the end.
I ABSOLUTELY loved the food references in here. So, I love sweets and anything with sugar. The only letdown? I can't bake... So this book let me indulge in sweets without having to actually eat them (which is good seeing as I pig out enough) and without having to do any of the baking. One of the things I really liked was the chapter titles! I generally don't read them, but these were awesome! Each had a fun cupcake as the chapter title that related to the chapter and beneath it was the description of the cupcake! It was quite fun to read!
I think the reason that I liked this novel so much was because of the struggles. It proved that Hudson was real and it gave the novel a bit more substance. The novel had so many layers to it, kind of like a cake, maybe. Okay, that was a bad relation, but I'm trying to go with the baking theme. Bare with me. ;)
Overall, Sarah Ockler baked up a wonderful novel that was easy to relate to and was real and amazing! I loved Twenty Boy Summer, and this wasn't as emotional, but it was still quite good!