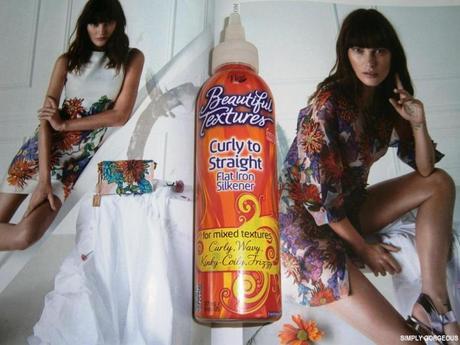 Happy Tuesday! I'm back with another hair care product to review and this one is also from Beautiful Textures, I have already reviewed a product from them before and if you are interested you can check it out here. For the most part I always have my hair straight so when I received this product I was extremely excited to try it out since it is perfect for using with a flat-iron and that's how I always straighten my hair. Keep reading for all the deets and my thoughts on Beautiful Textures Curly to Straight Flat Iron Silkener.
Review: Beautiful Textures Curly to Straight Flat Iron Silkener
Description: Curly to Straight Silkener infuses just the right balance of natural oils and protection to help distribute heat evenly, add super shine and prevent drying.
Curly to Straight Silkener gives you the ultimate styling freedom without sacrificing your mixed textured hair. Use this product to take your curls, kinky-coils and waves to your desired silky smooth style with unforgettable body.
Directions: For healthier looking hair, hydrate your hair inside and out with Tangle Taming Shampoo and Conditioner. Apply a light coating of Silkener to hair and follow styling options. Remember to start out light, let your hair decide how much it needs, you can always add more.
Styling Suggestions: Use blow drying brush to help stretch curl pattern to desired straightened look. After drying hair with blow dryer use ceramic iron for a silkier, straighter look.
Curly to Straight Silkener is excellent as an ultra lite finish to boost shine and control frizz in finished styles. Smooth a few drops between your fingertips and lightly apply to tresses, a little goes a long way.
Price: $5.48
Where to Buy:
eBay
Walmart
Amazon
Sally Beauty
Pros:
Affordable
Healthy Looking Hair
Adds Shine
Works for Mixed Textured Hair
Unforgettable Body
Tames Frizz
Silky Smooth Hair
Cons:
I have been using this product every time I wash, conditioner and flat-iron my hair. First I blow dry my hair, then I add a few drops of this Curly to Straight Silkener to my hair all over then I section my hair off and begin to flat-iron it and when I am done my hair is laid! It looks amazing and feels so soft and silky, I really love this product because it does tame frizz and flyaways which I tend to have a lot of for some reason. I only use a little of this oil because it really does go a long way, I have had this product for a long time and it is definitely a must for my hair care routine.

I cannot see myself using any other product, this one is a keeper for me. I only apply this when I am straightening my hair that's it. Now occasionally when needed I use an olive oil to style my hair after it's been straight for a while. Typically I only flat-iron my hair once a month, I do not like to use a ton of heat on my hair we all know it can cause a lot of damage so I use this product once a month too. I recommend this product to everyone whether you have curly or straight hair, this gets the job done and will leave your hair looking and feeling gorgeous. I will definitely be picking up this oil when I run out.
Here is a photo of my hair straightened with a flat-iron and this Curly to Straight Silkener…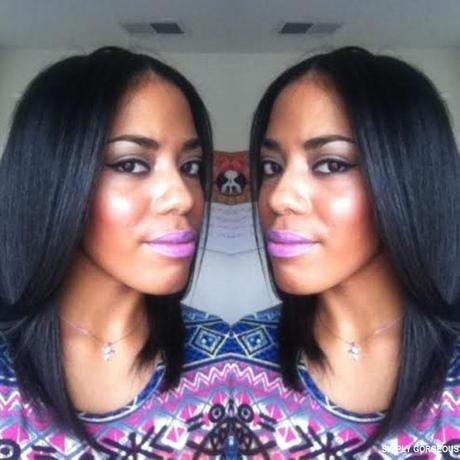 This Beautiful Textures Curly to Straight Flat Iron Silkener is Simply Gorgeous Approved!
What oil do you use when flat ironing your hair? Let me know in the comments.
Stay Connected!
Twitter | Facebook | Instagram | LinkedIn | Google +
PR Sample