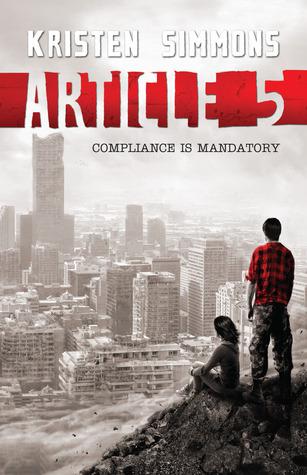 Title: Article 5Author: Kristen SimmonsEdition: hardcoverSeries: Article 5 #1Released Date: January 31st, 2012Publisher: Tor Teen
Goodreads

/

Amazon New York, Los Angeles, and Washington, D.C., have been abandoned.
The Bill of Rights has been revoked, and replaced with the Moral Statutes.
There are no more police—instead, there are soldiers. There are no more fines for bad behavior—instead, there are arrests, trials, and maybe worse. People who get arrested usually don't come back.
Seventeen-year-old Ember Miller is old enough to remember that things weren't always this way. Living with her rebellious single mother, it's hard for her to forget that people weren't always arrested for reading the wrong books or staying out after dark. It's hard to forget that life in the United States used to be different.
Ember has perfected the art of keeping a low profile. She knows how to get the things she needs, like food stamps and hand-me-down clothes, and how to pass the random home inspections by the military. Her life is as close to peaceful as circumstances allow.
That is, until her mother is arrested for noncompliance with Article 5 of the Moral Statutes. And one of the arresting officers is none other than Chase Jennings—the only boy Ember has ever loved.
I don't really understand the title of this. In their government, there are multiple Articles that must be followed, and when a person is arrested they say they're under arrest for Article _. Well Ember's mother is under arrest for Article 5. One of the characters says that this is because Ember's mother is the 'neighborhood bicycle', where everyone takes a 'ride.' I understand that it's a big impact that Ember's mom gets arrested, and because of it Ember's journey starts - but I don't get why they had to call the novel Article 5, when it gets brought up for a few scenes in the beginning...
Ember and Chase are both AWESOME characters. Chase kind of pissed me off in the beginning, because he was just so... cold? He didn't let anything affect him, until he started noticing that he was hurting Ember. He's got that dark and mysterious aura to him all throughout the novel, but sometimes he breaks and shows he's truly vulnerable. Ember, also is a pretty kick-ass character! Her determination grows exponentially as she's trying to find her mother, but her vulnerability is still very bright and easy to see. That doesn't stop her from becoming EXTREMELY stubborn though!
My favorite scene between those two characters was when they had the super rushed kiss when they were trying to escape the farmhouse they were staying at. Is it weird to say that it was really cute, even though they were almost going to be dead?
The plot for this novel was really awesome, but only for the middle and ending. The beginning, when Ember gets arrested and sent to the female rehab camp, is just kind of boring. I mean, it sets up some stuff of how the government works and it explains what she's running away from and why - but it was just kind of slow and boring. To be honest, I almost marked this as do-not-finish until Chase showed up! Then it really picked up speed and I really liked it!
To be honest, this book really reminded me of Shatter Me by Tahereh Mafi and Legend by Marie Lu! The reason it reminded me of Shatter Me was because of the government and the type of society they lived in. Same goes for Legend, and for the fact that Chase was working for the government, but then he runs off with Ember - kind of like June and Day in Legend! So if you like those books, I'd definitely recommend you picking Article 5 up!