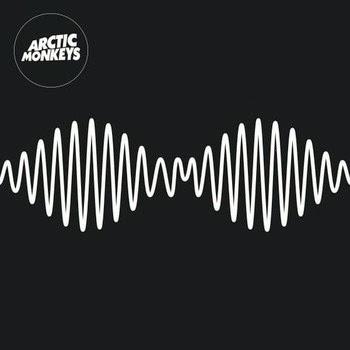 If the Arctic Monkeys' 2006 debut was their youthfully energetic entrance to the music world, and their second LP building on its appeal with more of the same, then 3rd album 'Humbug' was a darker, more slow burning effort that initially divided listeners on its release. 2011's 'Suck It And See' continued down this route, throwing in a few touches of introspection and the occasional 60's pop melody. Album number five happens at a point where rather than needing to find a new direction, the band have found ways to enhance, adapt and evolve their style into something familiar yet intriguingly different. But does it really live up to the hype? Early reviews of the LP declared that it could be "the album of the decade", a claim that's bound to piss off the naysayers.
This sort of hype will annoy people who haven't seen their favorite records if recent times rated as highly, which breeds a lot of cynicism. Some people will be so annoyed at the hype that they won't WANT to like this album from the moment they set ears on it. 
The NME need to sell papers but also keep existing readers, while other publications and even certain websites will also have ulterior motives for raving so ecstatically about 'AM'. They need to write about popular mainstream things in order to stay "relevant" to the wider public and be likely to attract more readers. But publications like the NME have a typical readership made up mostly of indie rock fans, and as the papers/sites gets more mainstream and less indie, these readers get pissed off and leave. So the NME and others like them NEED to be featuring and championing acts who are massively popular, fairly young AND seen as reasonably "alternative". Who else but the Arctic Monkeys fit the bill in 2013? 10 out of 10 is 100%, which would mean that every single track would have to be up there with the greatest songs ever. This is not quite the case here, but an album that isn't one of the all time greats doesn't make a bad one. As on the previous two LPs, the pace is kept steady, but what it lacks in urgency it makes up for in burning, rock and roll lust. And tunes. Plenty of them.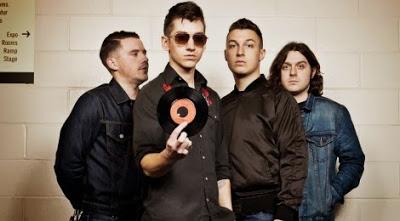 The slow, sleazy thump of 'Do I Wanna Know' opens the record with a heavy twang before 'RU Mine' provides more smoulderingly cool rock riffs and the first of many choruses designed to dig into your mind. Beneath the bullshit of modern R&B (and i mean DEEP beneath it) there is a particular essence; sexually charged, mysterious, cool and with a hint of danger. Alex Turner has successfully tapped into this and channeled it through the darkness of the desert rock atmospheres passed down to them by collaborator Josh Homme, who seems to have become something of a mentor for the Arctics.
Continuing the impressive quality, 'One For The Road' is a moody, stoned slice of funk, 'Arabella' is almost like Lennon fronting The White Stripes (or an overly libidous Bad Company), where no nonsense heads-down riffing is met with a wild solo, and the prowling glam romp 'I Want It All' casts away any doubt that these are men and not boys. The tearful Lennon-esque 'No 1 Party Anthem' provides a moment of reflection that adds another side to the record and even if it is a bit unoriginal, the lyrics and the delivery are something that could only come from Alex Turner. 'Mad Sounds' is narrowly rescued from 'filler' status by its blissful "ooh la la la" refrain, a nice playfully chilled song that doesn't have anything wrong with it, but let's make this clear: it isn't a track on a 10 out of 10 album. But even one of the two weakest tracks here would be a highlight on most modern-day mainstream rock records, and 'AM' must be applauded for its consistency, something lacking on previous albums.
The rattle and punch of the superb 'Fireside' revisits the mysterious atmosphere of 'How Soon Is Now' and a couple of other Smiths numbers without ever plagiarising, and begins a four track run of great songs that could one day be looked back on as the peak of the band's career. Dr Dre influences seem to find their way into the infectious 'Why'd You Only Call Me When You're High', particularly those awesome, perfectly placed falsetto backing vocals during the second chorus, buoyed by the booty-shaking rhythm and mischievous bassline. Returning to more British rock-based sounds is the somewhat Oasis-esque stomp that is 'Snap Out Of It', but adding different elements is another infectious chorus which hints at old Northern Soul. The album reaches a peak with the cool-as-fuck Sheffield funk of 'Knee Socks', which brings with it another perfectly done hip hop-embracing hook and more of those brilliant high/low dual vocals.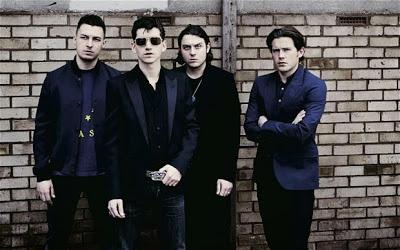 As it turns out, the closing 'I Wanna Be Yours' proves to be something of an anticlimactic closer, poet John Cooper Clarke lending them some affectionately blunt lines that would perhaps have been delivered better by the man himself, while the slightly unimaginative pop chorus also lets it down a touch. But the aforementioned track being right at the end means you can just stop the album after 'Knee Socks' for a more perfect listening experience, so they also win marks for not annoyingly sticking it in the middle of the album.
So does it live up to the hype? Not quite. Even if it was two tracks shorter it wouldn't be a flawless all time classic, and I agree that the reviews praising it with 10 out of 10 marks are over the top, but to hear it and say that this is a bad record would be even more ridiculous. It's full of brilliant tunes that stick in the memory, and for that reason 'AM' is going to be remembered as one of the band's best works and one of the finest mainstream indie rock albums of this era. But that's it, OK? OK, now let's enjoy it for what it is.
8.4/10
https://www.facebook.com/ArcticMonkeyshttp://www.twitter.com/arcticmonkeyshttp://www.arcticmonkeys.com/