Even after the rape allegations against Luc Besson, the French director still has the guts to prolong his long list of femme fatale flicks, now with Anna—starring Russian model, Sasha Luss. The new movie could not be more similar to Besson's breakthrough, La Femme Nikita, in terms of the structure. This time, Besson blends his signature narrative structure with thick late-Cold War bonanza—exploiting the main protagonist to the extent that we begin questioning the director's whole career path.
We cannot guess if Anna is Besson's redemption or, instead, another problematic obsession; but, we sure will observe the director having a little bit of nostalgia with his own style. It takes time to get used with the back-and-forth plot, which soon introduces us to the titular Anna (Luss), a Russian woman scouted at a local market by a French modeling agency. In no time, she has already be the top-flight model in the haute couture industry and, the next time we blink, she's already in a luxury hotel murdering a high-profile arm dealer. Unbeknownst to the audiences, this Anna used to be a struggling woman before a KGB operative (Luke Evans) mentors her and helps her recruited by Olga (Helen Mirren), the head of agency.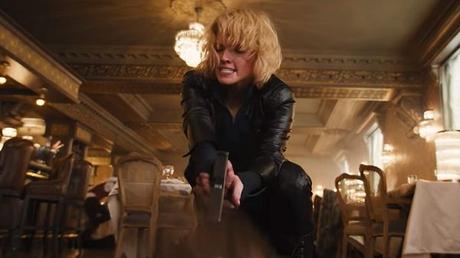 Sasha Luss as the titular character in
Anna
(2019)
The narrative refuses to be modest. The back-and-forth style can be misguiding in the beginning; but, once we are accustomed to it, the whole structure becomes apparent. By the time it becomes apparent, the narrative style begins to feel repetitive and predictable (something that espionage thriller should always avoid). Anna has some classic moments or two with long, majestically choreographed action scenes (which you cannot help but comparing it with Nikita); but, that might possibly becomes the movie's highest note.
Besson insists on making this an espionage thriller where the protagonist is keen to use all the resources she intrinsically has to outwit her enemies. Close-quarter combat skill might be one advantage; but, Anna will go further using her negotiation skill and, most problematically, seducing skill. Given the director's reputation, it becomes harder and harder to neglect the fact that Besson has the history of abuse, even when he has denied it. Judging from how inherent the male gaze plays part in this movie, it makes audiences becomes more uncomfortable thinking about the movie's motivation.
Even problematic, Besson still actually delivers a slick espionage action-thriller. Led by Sasha Luss' surprisingly nuanced performance in portraying Anna's constant fight for freedom, Anna traps audiences into the midst of a seemingly puzzling thread of betrayal. It's just literally and non-literally ironic.

6.8
Anna (2019)
1h 59min | Action, Thriller | 20 June 2019 (Singapore)
Director:
Luc Besson
Writers:
Luc Besson
Stars: Sasha Luss, Helen Mirren, Luke Evans
Summary: Beneath Anna Poliatova's striking beauty lies a secret that will unleash her indelible strength and skill to become one of the world's most feared government assassins.
Countries: France, USA
Languages: English
Source: imdb.com
Disclaimer: This plugin has been coded to automatically quote data from imdb.com. Not available for any other purpose. All showing data have a link to imdb.com. The user is responsible for any other use or change codes.