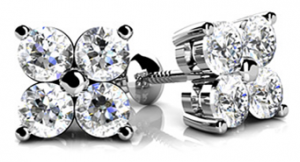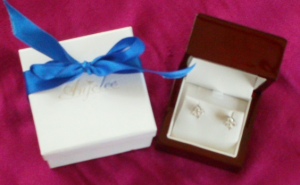 I love jewellery, you're probably all aware of this given that I've just written a book about accessorizing. Jewellery can totally transform what you're wearing and really does provide the finishing touch to your outfit. So I was delighted when Anjolee sent me a pair of Diamond Stud Earrings to review (OK, they sent me the CZ and white gold version of their stud earrings, but you can't expect real diamonds for free).
They came beautifully packaged in a wooden box that was then inside a white card box tied with a ribbon.
As I wear larger scale necklaces most of the time, I tend to go for smaller earrings, and these lovely Quad Block style really work with lots of other jewellery I already own, but they're not too small to disappear when wearing.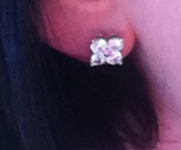 Sparkle near your face is important, it draws the eye up, and even if you're like me and wear your hair over your ears, a little sparkle at your ears will provide enough glimpses as your hair moves to draw the gaze.
What I like about the Quad Block diamond stud is that they are large enough to draw attention, but not too large to be overpowering or to compete with the my necklace or other jewellery I'm wearing.
They are discreet enough to wear to the gym by themselves, but also glamorous enough to team with other jewellery for all occasions, from running to the supermarket to a formal event.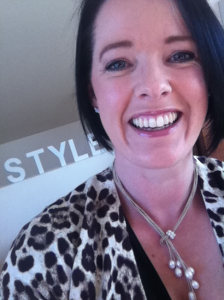 So how can I work these earrings back with my existing jewellery?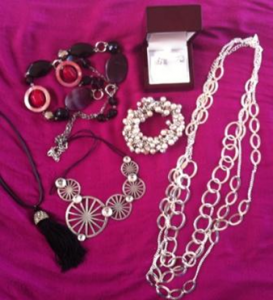 Firstly I work with the colour. I chose the white gold (as I'm cool and it looks way better on me than yellow gold which suits those with a warm complexion). This then works easily with my silver necklaces like the ones pictured here.
As they are sparkly, I'll also wear them with other necklaces or bracelets that have sparkly features such as the wagon wheels, and the pearl and cz bracelet, or the black and cz tassle necklace.
Lastly, I'll look for a relationship with the shape, for example the variety of beads on the pink necklace glass beads also relates to the shape of these stud earrings, as do the pearls in the photo of me above. If I had any floral shaped jewellery these would work really well with them as well.
How do you match your diamonds with costume jewellery?