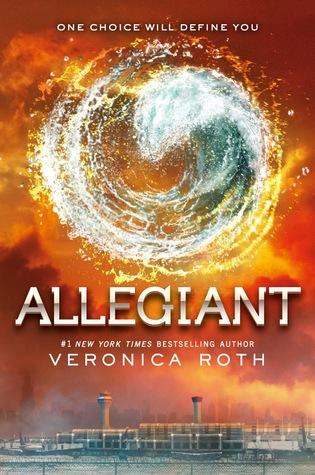 Genre: YA Dystopian
Published: October 22, 2013 by Katherine Tegen Books
Series: #3 (Divergent)
Length: 526 pages
Source: Bought
"The faction-based society that Tris Prior once believed in is shattered – fractured by violence and power struggles and scarred by loss and betrayal. So when offered a chance to explore the world past the limits she's known, Tris is ready. Perhaps beyond the fence, she and Tobias will find a simple new life together, free from complicated lies, tangled loyalties, and painful memories.
But Tris's new reality is even more alarming than the one she left behind. Old discoveries are quickly rendered meaningliess. Explosive new truths change the hearts of those she loves. And once again, Tris must battle to comprehend to complexities of human nature – and of herself – while facing impossible choices about courage, allegiance, sacrifice, and love."

I have mixed feelings for this book, but for the most part I did enjoy reading Allegiant. I'll start off with what I did not like. I understand why Veronica did the dual point of view with Tris and Tobias and I DO like it, but what I did not like is how they sounded so similar. Even though at the beginning of the chapter it says who's narrating it, it still gets confusing especially if you decide to stop reading in the middle of the chapter then continue to read it later on. Also I think Allegiant has a much slower pace compared to Divergent and Insurgent maybe because of our questions finally being answered since it's the finale, but nonetheless I still managed to fly through this book (not as quickly as I did for Divergent & Insurgent though). Also I thought the "big revelation" was a bit anticlimactic..like the explanation made sense, but I thought "oh okay…that's it?" I was looking for something more, but I'm glad that it did made sense.
Now on to the things I loved. I really loved the character developments especially with Four. I also like the themes presented in this book which are love, sacrifice, friendship, and of course bravery. Believe it or not, I really like what happens in the end. I already know the big bang that happens before going into it because someone spoiled me on Instagram, but I do like it because it makes sense since the trilogy is about being brave and selfless. I actually cried in some parts of the book which I rarely do because I'm not a crier when it comes to reading books, but this one just made me so sad for all the characters. Overall I highly recommend you to read this because it is one of those books that will make you feel all the feels and a book that will leave an impact on you in so many ways.