I was in Whole Foods recently with a friend who was praising the Alaffia line of products. She had said that not only were the products quality, they were also sustainable and were serious about giving back to the communities that the ingredients are harvested from. I was sold. I decided to try the liquid black soap in Tangerine citrus.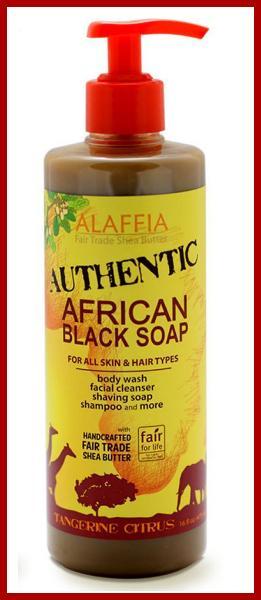 Alaffia Authentic African Black Soap in Tangerine Citrus 16oz. ($12.50)
Ingredients:African mint (ocimum canum) extract (aqueous), African black soap (saponified shea butter* [butyrospermum parkii] and palm kernel oil [elaeis guineensis]), lauryl glucoside, tangerine essential oil, orange essential oil, lemongrass essential oil, litsea essential oil.
*Certified Fair for Life – Social and Fair Trade by IMO.
Right on the label, this product claims to be a multitasker. "Shampoo, body wash, shaving soap and more" It says. So I decided to take it for a test drive.
First of all, it smells divine. I really love the scent, and even though I could probably make this product (by melting down some black soap), I'd be hard pressed to re-create the scent of the tangerine citrus flavor. I didn't need to use much for body wash and although it lathered a bit. I didn't feel like I was washing up with bubble bath like most sulfate laden body washes. I used it to shave my legs as well and it did a good job of creating a smooth, moisturizing layer to shave with. I didn't even have any cuts at the end! I also put a bit in a bottle with a little water and threw it in my bag to use as handwash. Then came the real test.
Using it as a shampoo.
I was pleasantly surprised. After a recent health scare, that left me unable to wash my hair for a couple of weeks, I was happy with how well this product cleaned my scalp and hair. I used my new wash method.  Which allowed me to save on both product and water, yet still got my hair nice and clean.
I looked into the Alaffia company as well, and my friend is right. I've been wary about products with unsustainable palm oil lately, after checking out this website, and learning about how bad the harvesting affects the land as well as the wildlife that live in the trees that are harvested. However, Alaffia follows sustainable harvesting practices in Togo and is committed to sustainability and economic empowerment for its suppliers.
This makes me very happy.
Overall, I really like this product and I would buy it again. Even though I wish it cost a bit less, the fact that it's a multitasker and I'm contributing to a sustainable company is a big plus for me.
RATING: 5 Savvy!* – Great product, great ingredients, great price, multi-use!
You can buy Alaffia Authentic African Black Soap in Tangerine Citrusright here