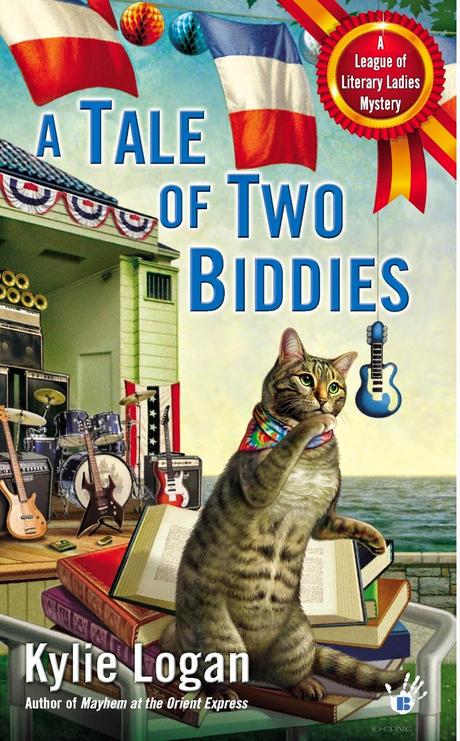 Description (from cover):
'When it comes to solving mysteries, these ladies are in a league of their own...
Summer can be the best of times or the worst of times for the resort town of Put-in-Bay on Lake Erie. For Bea Cartwright, business is booming as guests storm her B and B for the Bastille Day celebration. In honor of the holiday, the League of Literary Ladies is reading the Charles Dickens classic A Tale of Two Cities. It would be hard to make a more appropriate selection--especially when they have their very own Defarge sisters, elderly twins Margaret and Alice, who run the local knitting shop.
On Bastille Day, the head-banging rock band Guillotine shows their chops for the tourists--but the celebration is soon cut short. With something needling the Defarge dowagers and secrets that lead to murder, solving this mystery will be a far, far better thing than the Literary Ladies have done before. They'll just have to make sure to keep their heads while they try to stop a killer's reign of terror...'
My thoughts:
I thought that I would find this one to be a little bit corny after reading the title, but I actually enjoyed reading this one. It has a small town feeling with characters who know each other and know everyone's business. Everyone is suspect and Bea must use her smarts and her fellow League of Literary Ladies to solve this murder before she becomes the next victim. A lot of tourists are in town in Put-in-Bay for the Bastille Day celebration which features a rock band and a Charles Dickens trivia contest among other things. What no one expected is for someone to turn up dead at the festivities. 
Bea cannot leave well enough alone and decides that she must have justice for the victim. She sets along trying to figure out who had motive and opportunity to kill the victim. And the plot gets thicker when she learns that just about everyone had a grudge with the victim. She must weed out the suspects and determine who is a killer and do so before time runs out.
I enjoyed reading this one and I absolutely adore the setting in this book. I want to learn more about Bea's mysterious past that the author keeps hinting about and learn what makes her so secretive. I found this book to be humorous at the right times and I simply can't say that there was anything about this one that I didn't like other than the fact that the author sort of leaves the reader hanging at the end. But of course, that is just to make the reader come back for more. If you like cozies with a literature twist, then this is definitely a read you cannot pass up.
Overall Rating: 4
Title:  A Tale of Two Biddies
Author:  Kylie Logan
Series:  A League of Literary Ladies Mystery #2
Publisher:  Berkley
Publication Date:  February 4, 2014
Pages:  305
Genre:  Cozy Mystery
Get It:  Amazon; Barnes & Noble
Disclaimer: This book was selected from the library by myself and I reviewed this book without compensation of any kind. All thoughts and opinions are solely mine.