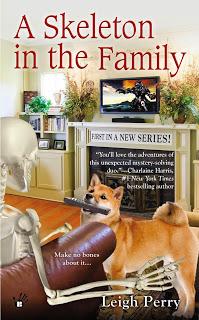 Description (from cover):
'Most families have skeletons in their closets...
Moving back into her parents' house with her teenage daughter had not been Georgia Thackery's 'Plan A.' But when she got a job at the local college, it seemed the sensible thing to do. So she settled in and began reconnecting with old friends.
Including Sid. Sid is the Thackery family's skeleton. He's lived in the house as long as Georgia can remember, although no one, including Sid, knows exactly where he came from and how he came to be a skeleton.
Sid walks, he talks, he makes bad jokes, he tries to keep Georgia's dog from considering him a snack. And he manages to persuade Georgia to let him leave the house. But when she takes him to an anime convention--disguised as a skeleton, of course--he sees a woman who triggers memories of his past.
Now he is determined to find out how he died--with Georgia's help. But their investigation may uncover a killer who's still alive and well and bad to the bone...'
My thoughts:
I typically don't go for the supernatural or the paranormal types of books, but this one caught my eye for being a little different. A murder mystery with a walking, talking skeleton? Not my normal thing, but I decided I would try something a little different. I actually enjoyed this one. I loved Sid the Skeleton's character and found him to be oddly amusing. He does have some corny bone jokes, but if you can ignore them, then this book was actually quite good. This book puts a unique slant on the cozy mystery and brings something fresh to a loved genre. 
Georgia Thackery is a professor. One that is nowhere close to tenure and one who travels from place to place based on where she can find a job at the moment. It just so happens that she returns to her home town to teach at the college where her parents also teach. She settles back into familiar surroundings and resumes her friendship with the family skeleton, Sid. I loved the camaraderie that these two share and I even found myself laughing at times. Sid recognizes a woman from his past and this triggers an investigation into who Sid was before he was a skeleton and the mystery surrounding his death. When Georgia and Sid learn that he was murdered, they team up and use their skills to find out just who Sid was and why someone wanted him dead.
I thought that this was a cute and fabulous cozy debut. I would read the next in this series as I loved the quirky ways of Georgia and Sid. I think that the author did a fantastic job of creating something not so ordinary into something that could quite be believable in a certain extent. A talking skeleton? Odds are that will never happen, but Perry did a fantastic job of creating a world where that could exist. I enjoyed this book more so than I typically do debut cozy mysteries and I think that is saying a lot. I was captivated from page one and couldn't put this one down. A perfect read for Halloween.
Overall Rating: 4.5
Title:  A Skeleton in the Family
Author:  Leigh Perry
Series:  Family Skeleton Mystery #1
Publisher:  Berkley
Publication Date:  September 3, 2013
Pages:  304
Genre:  Cozy Mystery
Get It:  Amazon; Barnes & Noble
Disclaimer: This book was selected from the library by myself and I reviewed this book without compensation of any kind. All thoughts and opinions are solely mine.