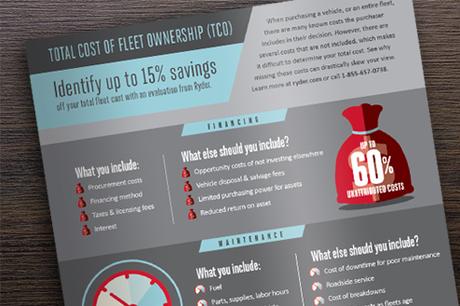 When you review your business strategy to make sure it's moving your company forward, do you include an assessment of how much owning your fleet costs you?
If so, you are ahead of the game in understanding how to profit and grow at the same time. If not - or if you would like some help with your assessment - try using this Total Cost of Ownership (TCO) calculation tool.
We created our TCO tool using Ryder's years of experience in helping owners of businesses of all sizes evaluate the complete list of expenses related to their fleet. "Complete list" is the key phrase in determining your true expenses. Without including all of your costs of fleet ownership, your view is skewed - so likely your business strategy would be too.
There are three areas to consider when calculating your fleet's TCO: Financing, Maintenance, and Administration.
In Financing, many business owners immediately think to include:
Procurement Costs
Financing Method
Interest
Taxes & Licensing Fees
But many forget the hidden costs:
Opportunity costs of not investing elsewhere
Vehicle disposal and salvage fees
Limited purchasing power for assets
Reduced return on asset
In Maintenance, many business owners automatically include:
Fuel
Parts, Supplies, Labor Hours
Repair & Substitute Vehicles
Asset Management System
But many forget about:
Cost of downtime for poor maintenance
Roadside service
Cost of breakdowns
Increasing costs as fleets age
Often, business owners don't include any Administration costs - but they add up. Consider these:
HR costs to recruit drivers and technicians
Training costs
Personnel to manage capital and depreciation
Once all of these costs are factored into a fleet's TCO, many successful companies find that it makes more sense - and saves money and hassle - to lease their fleet rather than own it. One company that we work with, Diaz Foods, went from being a small business to a national food service giant using our TCO calculator and then moving to a fleet leasing strategy.
Since opening in 1980 as a mom-and-pop grocer in Atlanta, Diaz Foods has grown to become one of the nation's largest providers of Hispanic and specialty foods. With distribution centers, produce plants, cross dock operations, and other facilities throughout the Southeast and Mid-Atlantic region, Diaz Foods did around $200 million in sales in 2015, with $300 million forecast for 2016, and $500 million by 2020.
By outsourcing certain operational elements critical to maintaining a favorable balance sheet, including its fleet, Diaz Foods is able to drive overall value to its customers and its own bottom line, says President and CEO Rene Diaz. The company enjoys improved opportunity costs by leasing its vehicles, instead of borrowing or investing $150,000 or more in a tractor.
Also, where Diaz otherwise would be looking to sell aged equipment in seven years, under his lease, he's turning in the old equipment and trading up for the latest vehicles available.
"Opportunity costs to me are the driving force," he says, adding that under current tax rules, leasing keeps loan debt off his balance sheet. "We have $2 million in equipment from Ryder. But if I purchased [the same equipment], there's $2 million less I can get in credit."
This fleet leasing strategy allows Diaz Foods to invest in other areas of its business, like adding facilities or growing its route network.
"When you do the numbers, you can see that everything that is important to you is covered with Ryder," Diaz adds. "And when you know that the company is always there for you in every challenge you face, that is invaluable."
Curious about how to do an accurate TCO? Download Ryder's new TCO infographic to make sure you know where to attribute costs. And then take advantage of Ryder's TCO Calculator with a free assessment - and see how you can save up to 15% off your fleet. Click below to download the full PDF version of the infographic.