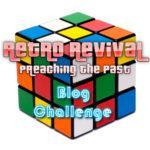 I try not to stray too far from the topics of toys, comics and running a website in the Mercheum Blog. I am going to make an exception today to answer the second Retro Revival Blog Challenge. This week's challenge is Event Television: Is there anything that happens on television each year that you just hate to miss?
There were plenty of shows I faithfully tuned in to each week, such as the Richie Rich cartoons, but those do not count as "events". When I was younger, I would watch all of the Rankin/Bass specials each year, such as Rudolph the Red-Nosed Reindeer. I also watched the Peanuts cartoons, such as A Charlie Brown Christmas. But I have not watched any of those in years.
The television events that do still matter to me are parades. Growing up, it was our family tradition to start setting up the Christmas tree during the Macy's Thanksgiving Day Parade, and to take it down during the Rose Parade. We still put up and take down decorations on this schedule, although we don't put up a tree any more because of our two cats. Missing either of these parades on television makes the whole holiday season feel "off" to me somehow.
As of when I am posting this, there have been no other replies to the challenge. Once more come in, I will try to update this post.