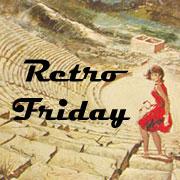 Retro Friday
 is a weekly meme hosted at Angieville and focuses on reviewing books from the past. This can be an old favorite, an under-the-radar book you think deserves more attention, something woefully out of print, etc. Everyone is welcome to join in at any time! 
I started a new job last week - at a library - and though I can't actually read more when I'm there, I can listen to music or... audiobooks! So, I was scrolling through the books in my Ipod and I found Secrets of a Summer Night by Lisa Kleypas. I'm a huge Lisa Kleypas fan, and I started to seriously seek out her books around the time this series - The Wallflowers - was starting.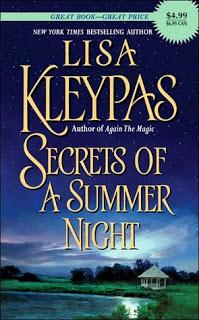 At First Sight: As her fourth, unsuccessful season draws to an end, Anabelle Payton's circumstances are desperate - she's almost 25, doesn't have prospects or a dowry, and her family is deep in debt. But then she takes notice of the girls seating next to her at a ball -realizing they have been seating together for most of the season -and they strike a friendship.
Soon American heiresses Lillian and Daisy Bowman,  Evie Jenner and Anabelle make a plan to attack husband hunting as a team sport as they have been quite unsuccessful on their own. Since she's the oldest, it's decided that Annabelle should go first, and the girls hatch a plan to catch her a husband during Lord Westcliff's upcoming house party in Hampshire.
Following Annabelle's every move is Simon Hunt. Born into a middle class family, Simon made a fortune as a financial speculator and eventually struck a friendship with the powerful Lord Westcliff. He has gotten almost everything he has ever wanted, except for Annabelle.
Simon appreciates Annabelle's beauty and is amused by her antics - because the Wallflowers manage to get themselves in trouble quite often - and even though his feelings toward her are stronger than he would like, he can't stop himself because he knows Annabelle wants him more than what she would like, too.
Second Glance: I love the Wallflowers, I truly do. In general, I love this book and series because it's says a lot about friendship. These girls are very different - Annabelle is beautiful and old-fashioned; Evie is shy but sweet with a large supply of quiet strength; Lillian is bold and outspoken; and Daisy is a whimsical dreamer with a pragmatic streak a mile wide - but they come to love one another and truly want to help each other out. There is nothing remotely catty about their relationship, and for me that's one of the most wonderful things about this series.
As for the romance in the book, it was rather lovely. Annabelle has to struggle with her prejudices and old-fashioned notions, she's horrified that she finds Simon so appealing because she thinks she shouldn't like him. Simon has a reputation for being ruthless and not quite civilized for good society, but he's simply too rich to be ignored and he sort of finds it amusing how everyone has to put up with him, both because of his money and because he is Westcliff's best friend.Yet, as they actually spend time together, Simon and Anabelle reveal more of themselves. Annabelle shows that she does a lot of what she does because she thinks that's what's best for her family, and she adores her younger brother and her new friends. Simon is a lot more caring that anyone gives him credit for and when he realizes he loves Annabelle, he goes for it even if he's not ready to admit it to anyone, not even her.
Bottom Line: Secrets of a Summer night is a great launch of a lovely series and a really nice, comforting read on it's own.