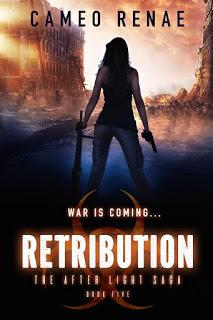 Title: Retribution (The After Light Saga, #5)
Author: Cameo Renae
Genre: 
YA Dystopian, Post-Apocalyptic
Publisher: 
CHBB
Cover Designer: Stephanie Hobbs of Steph's Cover Design
Edited by: 
Victoria Schmitz - Crimson Tide Editorial
Hosted by: 
Lady Amber's PR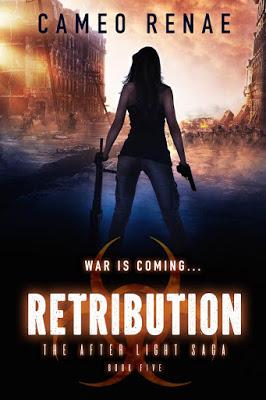 Blurb:
War is coming between humans and Arvies, leaving me trapped between two enemies. This time, I don't think I'll survive.
The government will stop at nothing to get me back in their clutches. They want what's inside me—a power I call Venge—and will use my greatest weakness to bring me to my knees.
The Arvies know of my gift, and use my telepathy and their numbers, in an effort to take me out.
My name is Abigail Park, and I promise retribution against those who've wronged me, even if it's the last thing I do.

Facebook Release Party:
https://www.facebook.com/events/100498577153696/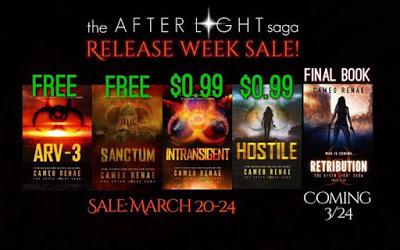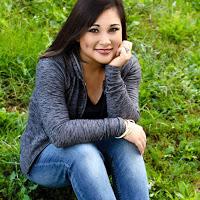 2016 Young Adult Author of the Year - Penned Con

2013 Break Out Author by Young Adult & Teen Readers

2013 Book of the Year (Hidden Wings)
Cameo Renae was born in San Francisco, raised in Maui, Hawaii, and recently moved with her husband and children to Alaska.
She's a daydreamer and a caffeine and peppermint addict who loves to laugh, loves to read, and loves to escape reality. One of her greatest joys is creating fantasy worlds filled with adventure and romance and sharing it with others.
One day she hopes to find her own magic wardrobe and ride away on her magical unicorn. Until then...she'll keep writing!
HAPPY READING!


For updates on Cameo you can visit:

Facebook:  https://www.facebook.com/CameoRenaeBooks/

Blog: 

http://cameorenae.blogspot.com/


Website: 

http://cameorenae.com

Twitter: https://twitter.com/CameoRenaeFan Club: https://www.facebook.com/groups/CameoRenaeFanClub/Newsletter: http://bit.ly/23HGKIyAmazon: http://amzn.to/2mycZJjGoodreads: https://www.goodreads.com/author/show/4794993.Cameo_Renae


Buy Links:




#Free with #KindleUnlimited




ARV-3 (Book #1): 

http://amzn.to/1MC7kND




Sanctum (Book #2): 

http://amzn.to/1M19cj3


Intransigent (Book #3): 

http://amzn.to/1V6zTnN




Hostile (Book #4): 

http://amzn.to/1U4YuJZ


Retribution (Book #5): Available Soon