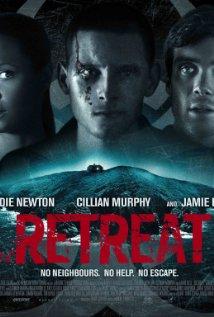 Preachers Message: 
A tense thriller filled with twists and turns, and an ending which leave you truly flat footed. Retreat is a real roller coaster of a ride. I watched it on Netflix as I have a monthly subscription, however you can pick it up from
Amazon
on Blu-ray (Preferably) for a pretty decent price!

Plot
Retreat follows the story of a 'blogger' and her husband who decide to vacate to a remote picturesque island just off the mainland of Scotland. After much tension between the Holiday makers,  it is revealed that the wife is concealing a dirty secret. Just as the cabin fever begins to develop, a stranger appears with terrifying news which will bring the couple closer than ever before. 

Acting
Jamie Bell was the stand out act, he brought the character of  the deranged soldier, Pvt. Jack Coleman beautifully to life. I felt truly fearful of my own safety whilst watching him. The other thrilling performance was from Cillian Murphy, who played the honest unsuspecting husband with a choice to make. He has to decide whether he believes the end has come or not and so decides to risk his life to find out. Although these guys played an awesome part in the film, I did feel Thandie Newtons performance as the role of a distressed and dishonest writer named Kate, left me feeling a little empty. Although her character was complex and formidable enough to warrant a meaty performance, I feel there is something about Thandie which makes her lose credibility in these more violent and aggressive roles. 

Positive Points
This film really goes out of its way to build alot of tension. With the use of the themes of isolation and cabin fever being used readily you really get a sense of impending doom unlike anything that I have seen before.
Any film that ends in a way you don't expect is a win in my book. However this film takes the idea of a surprise ending to a whole new level. For a great showcase of how to keep the audience guessing in a film, i would always this film as my first example.
As I have already mentioned the acting for a large proportion of this film is absolutely sublime and definitely worth watching simply for the chemistry and tension created between each of the characters.

Points for improvement
There was not alot I could see that was bad about this film so I won't over analyze. However, I would say that it would have been nice to have seen some vignette shots of how Jamie bells character made it to the island, they do explain this in the film however it feels rather brief and a little rushed. 

Preachers Summary - As a final note then, I would say you really must go and see this film it is a great thriller which doesn't get over complicated or over fabricated and plays on a real sense of our most animalistic fears.
_______________________________________________________________________________
Other films Suggested By ThePopCornPreacher: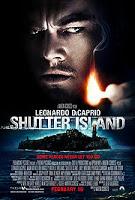 Shutter Island
A detective is investigating the case of a missing murderess who is thought to have taken refuge on an island which is being used to house the criminally insane.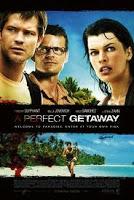 A perfect Getaway
A couple take a trip to a secluded spot on a Carribean island however the piece and tranquility they came looking for, isn't quite what they receive.