We have the results from AskMen.com's poll on their Top 49 Most Influential Men!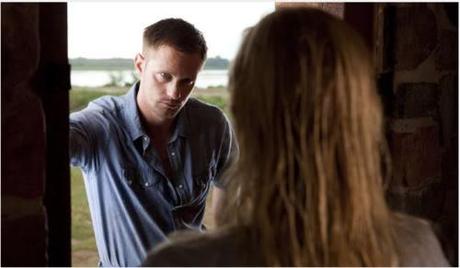 Alex came in at #17 overall…which is very good, considering he was up against men like the President of the United States, for instance! The man who came in #1 overall, was the recently deceased, Steve Jobs. Apple's founder and CEO!
Wow…and Alex came in at #17?

That's impressive!
This is what they said about him…
Why is Alexander Skarsgard no 17?

Television hasn't produced a sex symbol like Alexander Skarsgard since George Clooney outgrew his ER scrubs in the '90s. But thanks to his role as a bicurious bloodsucker in HBO's True Blood, Skarsgard has become an object of desire for women everywhere. And luckily for them, the strapping Swede is newly single, since he and Kate Bosworth called it quits after nearly two years together. At least that gives Skarsgard plenty of time to focus on his burgeoning film career, which kicked off with the remake of the ultraviolent cult classic Straw Dogs, in which Skarsgard plays a psychopathic townie out for blood. What a stretch.
Thanks to everyone who voted!
What do you think? Are you as impressed by this as me?
Share your thoughts below!