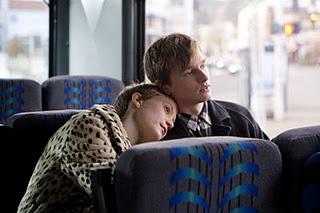 Photo: Scott Green


Starring Mia Wasikowska and Henry Hopper. Directed by Gus Van Sant. 91 minutes. PG
Restless is the super sappy love story attempt by director Gus Van Sant starring Henry Hopper (Dennis Hopper's son) and Mia Wasikowska (Alice in Wonderland and Jane Eyre). Van Sant has always been a director that I keep an eye out for, especially after 2003's Elephant. He does not disappoint in this film in terms of style and minimalism. He catches the current 20 something's climate perfectly. Though there is the ever constant teenage "the world is ending" attitude, I didn't feel it overpowered the undercurrent of new love and fun hats. He really let the two youngens try and work out their weird story on their own, similar to his style in Elephant.
Going into the film I was pretty excited, a trendy approach to the standard deep romance of pretty young people storyline with exciting new actors who have great cred! What's not to love?! The film starts with the young angsty Enoch (Hopper) attending a funeral for fun, or out of curiosity. He is an outsider whose only friend is a ghost. He spots a young Mia Farrow-haired, granny boot and fur coat wearing Annabel (Wasikowska). She approaches him after the service and he reluctantly accepts her friendship. At first their friendship is playful. Annabel is a quirky girl obsessed with birds and oversized old lady clothes, full of joy and a lust for life. Enoch shares her quirkiness but is more interested in the meaning of death. Why does this story sound so familiar? A young man obsessed with death wearing a three piece suit and Old woman (of sorts) obsessed with life meet at a funeral and strike up a love affair. This is the exact plot of 1971's Harold and Maude (save from their ages). Where is the Cat Stevens soundtrack? This one had the Beatles and others from the 60s. Close enough.
But that is where the similarities end, for now. The love between these two odd ducks blossom as they share their days going to the morgue and talking with the ghost. I hate to say it but partway through, the film reminds me of A Walk To Remember. Enoch is the classic tragic teenager and Annabel is the perfect ying to his yang. The story goes from complicated but sweet, to frustrating. The love story feels lost in details. The movie continues to add more character details that it hardly leaves room for anything other than the feeling of dread, and the feeling of dread also leaves no room for any love story standards like mushy one liners. Wait! There is a good one liner from Annabel toward the end. Sigh.
The thing that really saved this movie for me was the chemistry between the two young kids. They could not be more adorable. Though Wasikowska is somewhat of a seasoned actor compared to Hopper, they both seem equally talented and fresh. They are certainly the new gen of non-Hollywood super trendy actors. They are genuinely likable as a teenaged couple. I felt a real, exciting rush of new love when they kissed for the first time and held each other. I believed the connection between them and how they learned from each other. I would have totally accepted a super mushy, overly emotional ending because I know those two could have pulled it off but instead I got a short (but not sweet) send off. And no Cat Stevens! Though the ending scene was lacklustre, it is made up a couple minutes later in the most sincere look on Enoch's face as he thinks of Annabel. The scene is heart warming because it is a real resolution. Audiences will take away that last scene and feel like the film was a bitter sweet love story about two young outsiders, but I still feel like watching Harold and Maude. B




By Isa Montagnese
Dream cast: Gene Wilder. That's it.