VN:F [1.9.18_1163]please wait...Rating: 0.0/
10
(0 votes cast)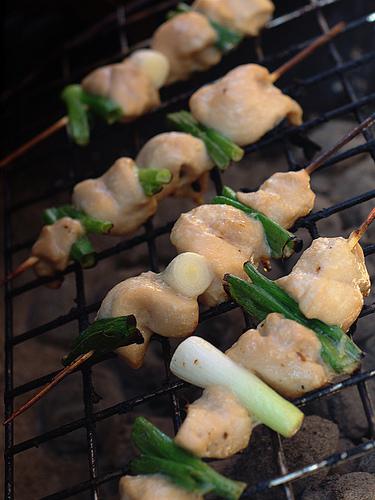 "...An all-you-can-eat restaurant specializing in skewered food inspired by authentic street food from all over the world," claims the website of the newly opened Everything On A Stick.
The menu for this restaurant was inspired by street food from all over the world. And, as the name suggests, everything - meat, seafood, vegetarian fare, side dishes, desert, and dishes to share - is served on a stick (except for their drinks and cocktail selections, of course). Though these sticks may come in various sizes and are made from different materials, all are recyclable.
Some of the delectable-sounding dishes include the Mojito melon fruit skewers, prawns wrapped in seaweed, Mom's grilled slices of bacon, fish steamed in banana leaves, and the deep-fried tofu lemon and garlic sauce. Each dish is prepared using only the finest and freshest ingredients.
The restaurant has gotten rave reviews on sites like IENS.nl and TripAdvisor.com and a rating of 9 out of 10 from Holland's most celebrated food writer and restaurant critic Johannes van Dam, in addition to being featured in Time Out Amsterdam.
With fixed prices of 24.50 euro on Tuesdays and Wednesdays, and 26 euro Thursday through Sunday, this makes for a great dining out experience at a more than reasonable price. Cocktails are only served Thursdays through Saturdays.
EOAS is located at Prinsengracht 478 in Amsterdam, just a three-minute walk from Leidseplein. The restaurant's design is the epitome of up-to-the-minute and features wooden floors with a custom-designed bar. The open layout and central location make this the perfect place for special events and celebrations.
Reservations are recommended and can be made via the contact form on the website or by telephone. Everything On A Stick is open Tuesdays, Wednesdays, and Sundays from 18:00-23:00 (kitchen closes at 22:00), and Thursdays, Fridays, and Saturdays from 18:00-0:00 (kitchen closes at 23:00). This schedule includes holidays. The restaurant is closed on Mondays.
'Like' EOAS on Facebook to get special offers.
As EOAS proudly proclaims on their website: "if it tastes good and we can skewer it, then it can go on the menu."
photo: Flickr user koadmunkee
*the photo above is not of food available at EOAS
© 2012, Amsterdam City Tours Blog. All rights reserved. On republishing any part of this post, you must provide a link back to this original post
VN:F [1.9.18_1163]please wait...Rating: 0.0/
10
(0 votes cast)VN:F [1.9.18_1163]