NEVER in the history of mankind has one man had such a profound effect on the conscience of the world…
Nelson Mandela who passed away late last night aged 95, will be remembered as the man who fought to break the terrible and inhuman chains of the cursed apartheid movement. In doing so he sacrificed his life spending 27 years locked away from the country and people he loved. But even in those dark times he still remained a figurehead and beacon of light for those desperate to see an emergence of the Rainbow Nation…
Mandela had a deep effect on me as a young man and I felt drawn to the cause and tried to play albeit a minuscule part in the movement and struggle to end the slavery of apartheid. Indeed my father as a policeman to this day talks of his time on the front line at the infamous Springbok demonstration in Leicester back in the late sixties. He was one of an almost joyous bunch of boys in blue who apparently took great delight in cracking the heads of anti apartheid demonstrators. Like father like son..? Not in this instance – not at all…
In fact on leaving the army I spent 6 months in jail after being confronted by a group of National Front thugs angry at my support for the ANC – I still bare the scars of that fateful encounter. But I digress…
Tarnished Rainbow Flag
I was lucky enough to visit South Africa 6 years ago. To be honest I was excited – expectant and hoping to see a country at ease and certainly at peace with itself. Sadly the grim reality of life in South Africa meant I had to spend two thirds of the time within the security of a gated and armed guard coastal town. I was horrified at what was really going on in the country…
Speaking to both black and white all spoke of a dangerous land where no go areas out numbered the so called 'safe zones' where parking at a traffic light might result in violent car jacking – or one wrong turn of any road on foot or in a car could lead to peril. Indeed walking the streets of even the safest of towns one felt an unasked for sense of danger where one had to be on guard at all time. If it was exhausting for me – it must have been mindbogglingly stressful for people trying to go about their normal day to day lives.
I recall our neighbours looking horrified on finding out we planned to drive through the very center of KwaZulu-Natal to get to our safari lodge. The man of the house took me aside handed me a loaded 9mm Browning and hissed – 'take this my friend. If you break down on that road they will kill you – even the Police – trust no one..'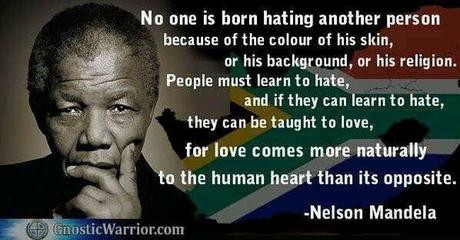 It was an alarming state of affairs but echoed by both black and white South African's fearful of what their great country was becoming.
Poverty was painfully high and great sprawling townships filled with an almost hopeless humanity could be seen from perfectly built roads and stunning shopping malls. Sitting outside one day having a beer I watched as a black man – who didn't quite fit the 'image' the black security guards wanted for the mall – was brutally beaten away – out of sight out of mind.
Bar staff and manual labourers told of corruption on a grand scale where so called councillors of villages received vast sums of money that was spent on plush homes – huge TVs and of course expensive cars. None of the cash ever filtered down to the people it was meant for.
I left South Africa with a feeling of deep sadness and bitter disappointment. The Rainbow Nation that had been the dream of the people for so many years had seen one form of apartheid swapped for another.
Economic Apartheid
Sure black and white could mix – marry – work and eat alongside each other. But a terrible economic apartheid had infested seemingly every single pore of that wild, savage beautiful yet terrifying land.
The younger generation waited for the jobs to come – the money to flow and the chance to build a new country where all could live as one and all could prosper. But money and power corrupts, and village elders gorged themselves on new found riches whilst the people they were supposed to represent went hungry – stole and found solace in the filthy circle of mind numbing drugs.
I felt that as he aged and his health worsened Nelson Mandela looked at the country he had fought so long to free and maybe felt more than a little hint of sadness. Here was not the dream he had envisioned – here was not the true Rainbow Nation he had bled – suffered and fought for – instead it was a maelstrom of hate down ancient tribal paths – a hate formed by the rich and the poor and a living seething mass of resentment.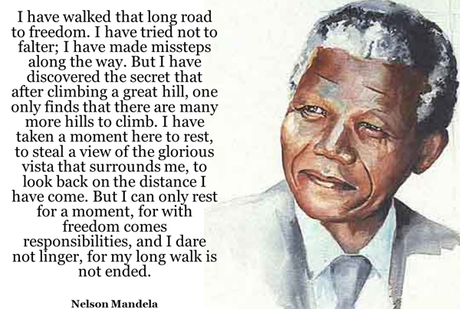 These are words I never dreamed of writing let alone thinking 30 years ago. But after nearly a month in that tragic yet spectacular land I felt it in my very soul.
There could only ever been one Nelson Mandela and by the time his country really needed him he was old and frail and simply didn't have the strength to see his long walk to freedom through. As we look at those in his shadow waiting to take up his mantle and push for true equality and freedom you have to honestly ask yourself who is there strong enough to do it..?
Sadly I feel there's no one – but one can hope. Let's pray his death is a catalyst and all South African's come together in peace and harmony – sadly I doubt that will ever happen.
So rest easy Madiba and sleep the sleep of the just and righteous – you above all other has earned it…