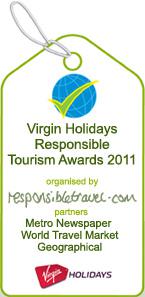 Nominations close in less than four weeks for ecotourism lodges you may have visited that demonstrate outstanding achievement in responsible tourism. There are awards in thirteen categories and all are judged on their commitment to conserving cultural heritage, preserving local environments and contributing to the sustainable livelihoods of local people.
Since 2004 members of the public have nominated over 10,000 resorts resulting in over 200 winners from 51 countries. Winners are determined after careful evaluation by the International Centre for Responsible Tourism at Leeds Metropolitan University in the United Kingdom, which partners with Virgin Holidays and media properties Metro Newspaper, Geographical Magazine (Royal Geographical Society) and World Travel Market to publicize the program.
If you've had the pleasure of a truly memorable ecotour, take a few minutes to submit your nomination and let the rest of the world know who is leading the way to responsible tourism.