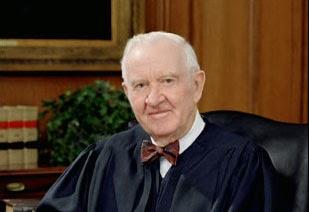 Views are changing fast on marijuana in the United States. The public no longer believes the government's lies that marijuana is a dangerous drug that should be prohibited by law. A recent Pew Research Center survey showed that 54% of Americans now think marijuana should be legal for recreational use -- and much larger percentages believe it is much safer than alcohol (both for an individual and for society).
Now a respected jurist has jumped on the legal marijuana bandwagon -- former Associate Justice of the Supreme Court John Paul Stevens (who was appointed by President Ford, and served from December of 1975 to June of 2010). In an interview with National Public Radio (NPR) last Thursday, Stevens was asked if he thought the federal government should legalize marijuana. He said:


"Yes. I really think that that's another instance of public opinion [that's] changed. And recognize that the distinction between marijuana and alcoholic beverages is really not much of a distinction. Alcohol, the prohibition against selling and dispensing alcoholic beverages has I think been generally, there's a general consensus that it was not worth the cost. And I think really in time that will be the general consensus with respect to this particular drug."


Justice Stevens is far from the only celebrity to champion the cause of marijuana legalization. But it is nice to see someone who has served on the nation's highest court express that opinion. Having dedicated his life to the law, his opinion carries a lot of weight.
Here are a couple more celebrity opinions on marijuana.