What is resin garden furniture?
Resin refers to both rattan and composite styles of garden furniture, where the material is a synthetic polymer. Wikipedia defines it as "a solid or liquid synthetic organic polymer used as the basis of plastics, adhesives, varnishes, or other products."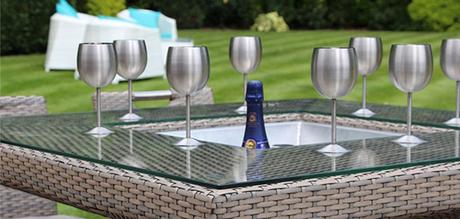 The type of Resin we stock online
We stock two types of resin furniture, which are:
Resin wicker : this is a very modern, contemporary style of furniture that naturally cushions you due to the hand woven material.
Resin wood-effect: this is more traditional in appearance and feel and is also no maintenance.
These are available in table and chair sets, benches, reclining chairs, rocking arm chairs, dining sets, and sofa sets. We even have some bar sets available.
You can browse all of our no maintenance furniture on our website here.
Resin Furniture Colours
Our resin garden furniture is available in many colours including:
And there may be some new colours coming in very soon!
Our resin furniture have some fantastic reviews, with people praising the fact that you don't need to maintain them, because they are completely all weather.
Plastic vs Resin
You may be trying to decide whether you want the cheap plastic furniture or the slightly more expensive resin.
Well one of the cons of plastic is that it is prone to breaking and cracking, which would mean you have to replace it far more often.
This means that even though resin is more expensive upfront, in the long run you will actually save money by purchasing it.
How to clean resin furniture?
Because of the nature of the resin furniture it is very durable, which means you can usually use a jet washer to clean any dirt off of it. If you prefer you can also use soapy water to wipe down any dirt and refresh your resin furniture set.
Can you paint resin furniture?
Yes it is possible to paint resin furniture. All you need to do is clean and wipe down the furniture, sand any defects away, then apply both a base coat and a main coat of paint. The main coat may have to be applied multiple times over to stick correctly.
It is obviously recommended that you paint in a well ventilated area.