"Let yourself be drawn by the stronger pull of that which you truly love." Poet Rumi
It has to be said that one of main motivations for wanting to return once more to Ladakh is summed up beautifully by poet Rumi's quote above. Last year our trip was enhanced by one special and unexpected member – Rumi-dog. We met him a few days from Leh near Tso Kar and he ran with us all the way over 5300m passes, through snow storms, and even when we dispairingly thought we'd lost him he would turn up at camp.  He was partially named after Rumtse village but like the poet, Rumi-dog, taught and reminded us all of,the beauty of  'when you do things from your soul, you feel a river moving in you, a joy.' And it is with these very strong feelings I just knew I had to see our Rumi boy again. To see this story click here 'Roaming Rumi – A Himalayan Dogumentary'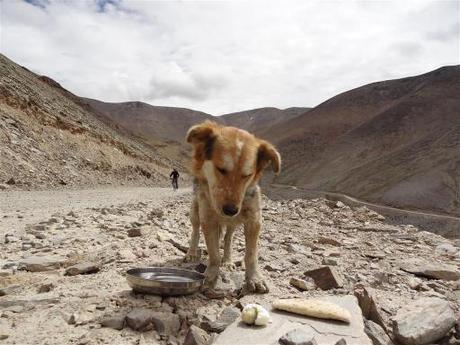 Our Himalayan hound Rumi dog who followed us for 200km to Leh in 2012. Here he is almost at the top of the Taglang-la pass (5300m) having an egg & chapati snack break.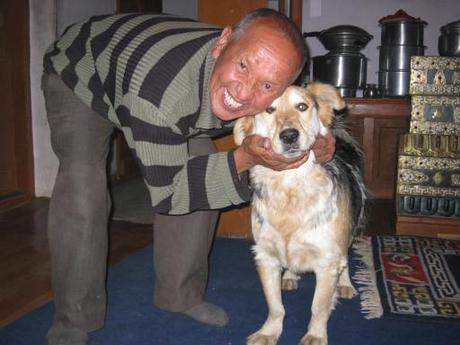 What a pleasure to find Rumi where we left him, with our Ladakhi family at Nurboo Guesthouse… utterly adored by his dad (aba) Angchuk.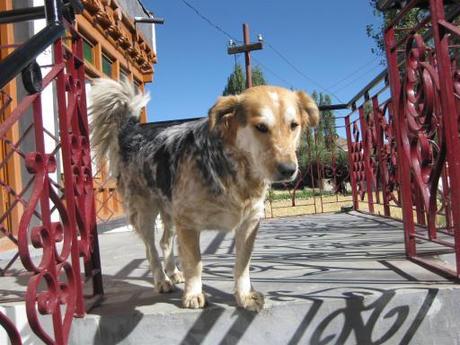 There was no doubt that Rumi remembered us, an excited whine, wagging tail and a recognition of my voice 'Rumi-boy!'.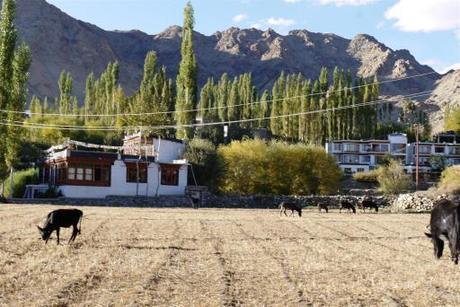 Rumi's home in upper Changspa, Leh.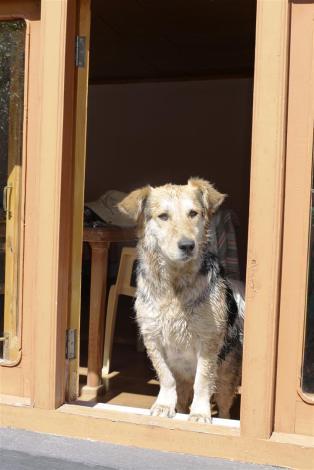 Rumi is literally the king of the castle and certainly the luckiest lad in Ladakh!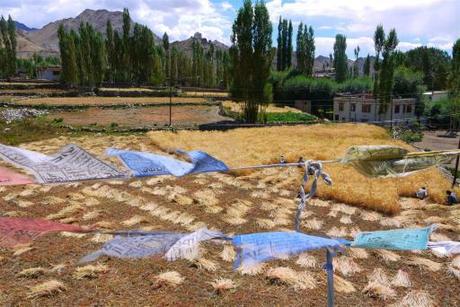 View from Rumi's castle in residential Leh.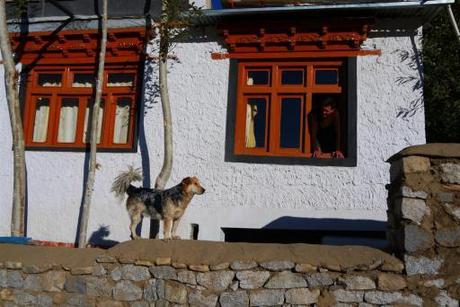 Top dog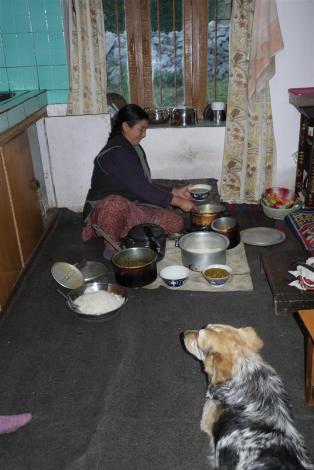 Rumi looks on while Ama Laskit cooks delicious momos, dal and palak paneer.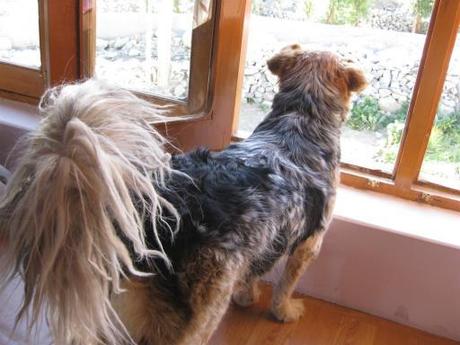 (He does have the most impressive rasta tail).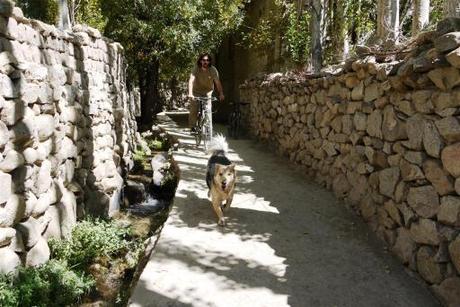 He remembered our walks and excursions and was eager to join us where ever we went.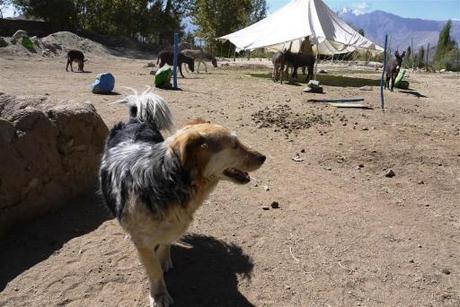 Visiting the donkey sanctuary, set up by South African, Joanne Lefson. Incidentally also the mother of the famous world traveling dog, dear Oscar.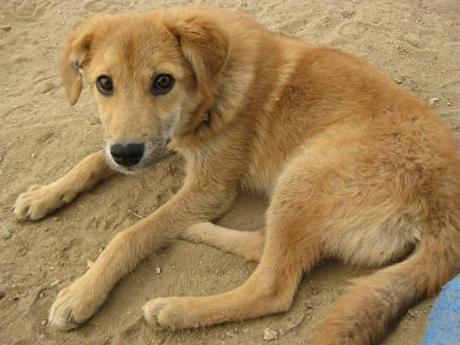 We also checked up on RupeeO, Joanne's new companion who was literally at death's door until he found her. He was staying at the sanctuary until Joanne could get all his papers in order and whisk him away on a memorial trek for Oscar to Everest Base camp. Another lucky little lad. See www.worldwooftour.com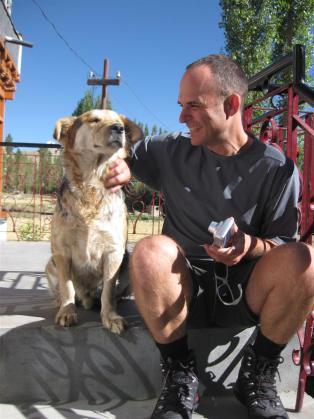 Meeting old and new friends. I literally bumped into Avi one dark evening on the streets of Leh. We studied together in Sweden 10 years ago and were delighted to reconnect. Avi is an ardent animal rights advocate, I so admire his principled dedication to cause. He followed Rumi's story last year so couldn't miss the chance to meet the 'famous' mutt.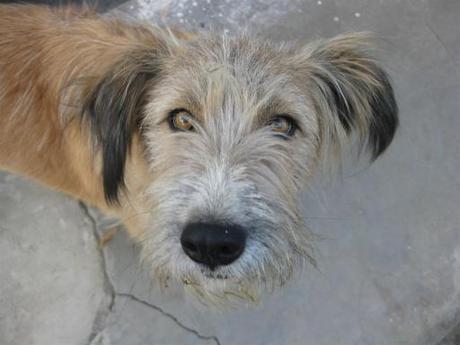 One of Rumi's neighborhood friends who would come to visit the house.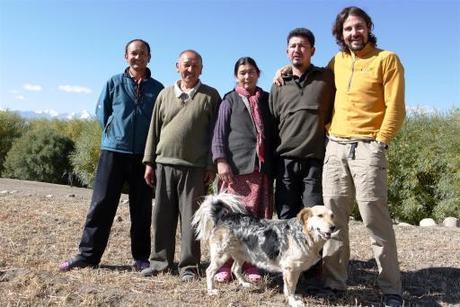 Family photo: Rumi with Dawa, Aba Angchuk, Ama Laskit, Nurboo and dogfather Carlos.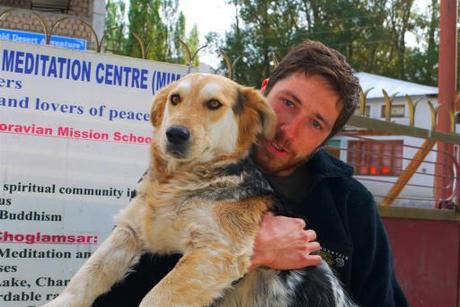 Niels holds onto Rumi who desperately wanted to join us on our Chamsar kangri climb.  He certainly is a residential boy, not so much roaming anymore days but dearly loved.
Not forgetting all the other hundreds and thousands of homeless dogs,
"There is a candle in your heart, ready to be kindled.
There is a void in your soul, ready to be filled.
You feel it, don't you?"  Rumi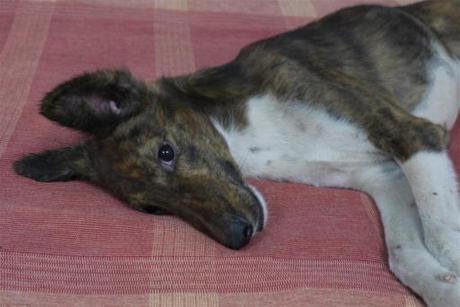 Prior to cycling I met Jojo in Amhdebad while at a 3 day Eco-Schools India meeting. He captured my heart and never left my side for 3 days. I abandoned him, but will never forget his generous and unconditional giving spirit.  I try to remember what Rumi taught me: ' The wound is the place where Light enters you".
.