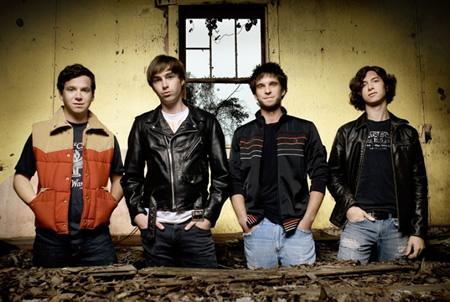 The Research Turtles, a poppy rock quartet from Lake Charles, LA, took their name form the Wes Anderson movie The Life Aquatic. They released a self-titled full-length in 2009, but within a year they had to find another singer/guitarist. The replacement is actually a blessing in disguise. bringing a more powerful pair of vocal chords to the table, a definite plus when you play music that is mix of West Coast melodies, Southern Rock and a healthy dose of Britpop.
Mankiller Part 1 of 2 is the first recorded output buy the new line-up. With the exception of the ratter weak opener Girl Like You, which contains some ill advised border-line auto-tune treated vocals, the band throws down catchy hooks and hard-hitting drums that add a sense of urgency to the lyrics about the never ending "Boy meets girl, now what" dilemma.
Research Turtles:
Jud Norman: bass, vocals
Joseph Darbonne: guitar, vocals
Logan Fontenot: guitar, vocals
Blake Thibodeaux: drums

Mankiller Part 1 of 2 is a self-released album. Buy it from the band's website. Release date: May31st. The single Bug In A Jar is available as a free download as of May 3rd. Part 2 of the Mankiller EP will be released later this year.
Tracks:
Girl Like You
You Are So
Bug In A Jar
Mankiller
Rhinestone Gal
Live date:
05/28 Luna (CD Release Show / Live DVD Shoot) w/ The Widowers, Lake Charles, LA
» researchturtles.com