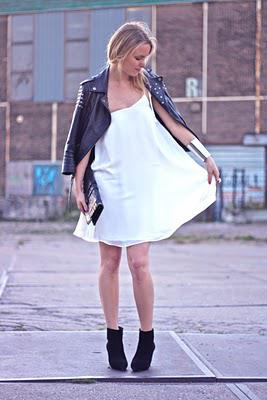 Raspberry & Rouge's Rebecca
wearing her versatile
Biker Jacket
I'll admit it – I'm clueless about fashion. To keep from unwittingly committing an unforgiveable fashion faux pas, I stick to the combination of my trusty black t-shirts and jeans or jeans and sweaters depending on the weather.
To me, fashion is a subject so esoteric it drives me to distraction when I attempt to get a grasp on it. What's in? What's out? Who knows? Certainly not me! And that's why I contacted Rebecca, the woman from Raspberry & Rouge. Rebecca modestly calls herself "just a girl with a crush on fashion" but the truth is that she is an undeniable expert on the subject.
Rebecca very graciously agreed to help me out by sharing some of her expert sartorial wisdom with me. After that, I had to ask her some questions, of course, and she was kind enough to answer them.  
SE:
When did you first become interested in fashion, Rebecca?
Rebecca:
My interest in fashion dates back a long time. I was always playing dress up when I was younger, making crazy combinations with my little sisters. Later on, I decided to pursue this interest in my life both on and off the clock.
SE:
Who are your favorite designers right now?
Rebecca:
That's hard to say. There are always pieces that I like and don't like. Still, there are some designers that never seem to let me down: Acne, Isabel Marant, Balmain, Alexander Wang and, of course, Chanel!
SE:
What is your favorite piece from your own wardrobe?   
Rebecca:
My favorite piece must be my black biker jacket. It's covered in studs and adds a bit of edge to any outfit. Furthermore, it works with almost any other piece in my wardrobe. In summer, I throw it over a romantic dress or a tee and a pair of shorts. In winter, it works perfectly with skinny jeans and chunky knits. My biker jacket has been my go-to-cover-up for a while now!
SE:
Aside from your trademark jacket, which I'm now sure will never go out of style, what do you consider "hot" this season?
Rebecca:
There are a handful of great trends this season: chunky knits, burgundy pants, leopard print and leather shorts. Love it!
SE:
For the fashion clueless, like me, can you give us three staple items we should always have in our wardrobes?
Rebecca:
In my opinion, fashion is all about feeling happy and showing it. Don't ever wear something that you're uncomfortable with because it will show. There are a few staple pieces that make dressing yourself easier. The first one might be an obvious one – the biker jacket. No further explanation needed on that one! The second one must be a pair of jeans. Consider a pair skinny jeans but the cut doesn't really matter if you're not comfortable with skinny jeans. Flares work great too! The last, but not the least, staple piece is the Little Black Dress. You can wear the LBD both casual and dressed – just add a leather jacket or a pretty blazer.
Biker jacket, a good pair of jeans, and the Little Black Dress – those are the key items I can't live without!
If you want to contact Rebecca, you can find her at
http://raspberry-rouge.com/
which is the inspiring place I stumbled upon while looking for a raspberry tart recipe and found Rebecca instead. That was a fortunate accident indeed!