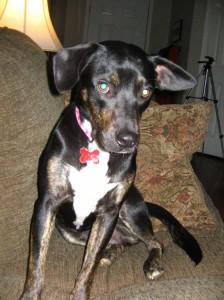 Keira didn't have a family a few months ago.
Now, the mixed-breed dog has found a home with an Athens family and has quickly become a source of solace for a troubled boy.
Samantha Mattox, her husband, Lee, and their two sons, Gregory, 9, and Sam, 7, adopted Keira from Athens Canine Rescue earlier this year.
"I had wanted a dog for a very long time, but my oldest son had always been terrified of dogs," said Mattox, who works at the main University of Georgia library.
According to Mattox, it didn't matter if the dog was nearby or hundreds of feet away, her son was terrified of it.
"No amount of reason or logic could convince him that all dogs within a 50-mile radius weren't out to hunt him down and attack him without mercy," she said.
But that all changed when Mattox's son met her sister's dog, Murphy. At first, she said her son was scared of Murphy, but he eventually realized the dog wasn't a threat.
After "babysitting" Murphy for her sister for a week and realizing how well it went, Mattox knew it was the perfect time to add to their family and get a dog of their own.
"I began searching the various pet adoption websites," she said. "When I saw Keira's picture and story on the Athens Canine Rescue page, I knew she was going to be our dog.
"I saw several dogs I liked, but I kept coming back to Keira. There was just something about her — that sweet happy face with her tongue hanging out and that 'rogue' left ear, always doing its own thing. I just melted."
The Mattox family was able to meet Keira at Pawtropolis, and almost immediately Keira took to the family, showering them with love and affection.
"Fast forward five months, and it's like Keira has always been a part of our family," Mattox said. "She is so sweet, loving, goofy and energetic. She's such a warm and happy soul."
The best part of the whole experience, though, is the effect that Keira has had on her son, Gregory, who suffers from Asperger's syndrome.
"My oldest son, Gregory, was diagnosed with Asperger's when he was 5 years old," Mattox said. "Some people refer to it as autism spectrum disorders. Some refer to it as high-functioning autism, because unlike classic autism, people with Asperger's are able to communicate, often do well in school and are usually of above-average intelligence."
According to Mattox, people who suffer from Asperger's like her son have difficulty with social interactions and a harder time to relating to peers.
"I think Keira has had such a positive effect on Gregory because, like most dogs, she is very sensitive to human feelings," she said. "She has a unique ability to recognize when he is upset and comfort him.
Part of the appeal of choosing Keira, Mattox said, is that she is adept to handling adversity.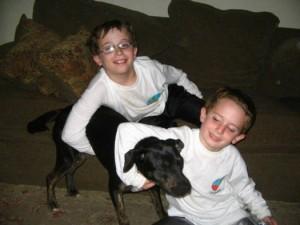 "He has almost daily meltdowns, tantrums and wild mood swings," Mattox said of Gregory. "Now the moment he begins to get upset, instead of hiding, Keira is by his side, kissing and surrounding him with affection and attention. I think she senses his mood is out of control and wants to soothe him. She doesn't judge him. She doesn't reject him. She just loves him."
And Gregory feels the same way about Keira, according to his mother.
"He frequently says, 'Keira always makes me feel better,' and 'I'm so glad we got a dog. I love her!' " Maddox said. "When I hear him say things like that, I know that the extra work and expense of owning a dog is totally worth it."
Maddox said that Keira is now spoiled and even sleeps in the bed between her and her husband each night.
"My younger son enjoys playing chase and fetch with her in the backyard," she said. "My husband takes her for rides and invites her to play every day when he comes home from work. And I always look forward to our daily walks around the neighborhood."
~ Courtesy of Athens Banner-Herald
Tags: coping with Asperger's, dog helps boy, Rescue Dog