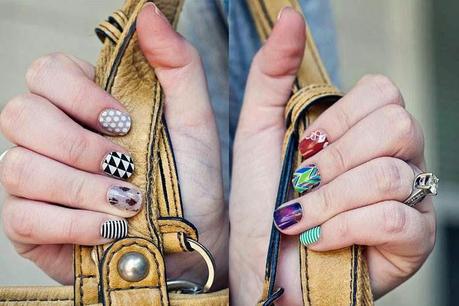 Gone are the days of nails that chip and flake after only a few days!
Gone are the days of the single colored, boring manicure.
Gone are the mani/pedis that take up your whole afternoon... and most of your cash too!
Jamberry Nail Wraps
give you style and confidence - while demanding very little of your time... or your money.
Jamberry Nail Wraps
are heat-activated vinyl nail wraps that come in over 300+ designs.
Or you could design your own! One sheet will cover 2 to 4 sets of nails
(1 set = 10 nails)
.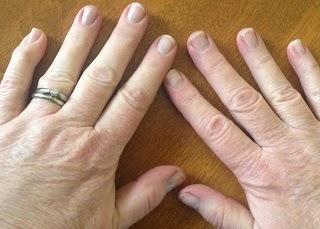 My nails after 8 months wearing wraps
They last up to 2 weeks on your fingernails, and up to 6 weeks on your toenails.
They won't chip or fade like nail polish, and they won't damage your nails - like acrylics or gel nails can.
And there is
NO DRY TIME!MORE BENEFITS:
No harmful chemicals, latex-free, gluten-free, formaldehyde-free and cruelty-free
(never animal-tested!)
!
Can be used on artificial nails.
Made in the USA.
Shop Canada: Wonderful.JamberryNails.net
Shop USA: JamberryNails.net ⇒ choose "Catherine Watt" as your consultant
Like: Facebook.com/WonderfulNailDesign
How To Request Your Sample of Jamberry Nail Wraps
Your Jamberry sample packet is
FREE
, for only the cost of postage/taxes/fees
-
$1.10 CDN
/
$1.50 US
- payable thru Paypal.
(Shipped from Canada)
$1.50 for US addresses:
$1.10 for Canadian addresses:

To compensate you for this small amount, I will include your very own
Coupon Code
- worth
10% Cash Back*
on the subtotal of
your next
Jamberry Nail
purchase.
Cash Back:
Purchase just one Jamberry wrap sheet and you will get $1.50 back for your US order, or $1.70 back for your Canadian purchase!
(Follow instructions below for getting CashBack)
PLUS,
if your US purchase totals $150 US, you get
$15 Cash Back
, and free shipping too!
If your Canadian purchase totals $200 CDN, you get
$20 Cash Back,
and free shipping too!
(Don't have Paypal? Send a self-addressed Canadian stamped envelope, or a US International Postal order for the cost of the postage. Email catherine (at) frugal-freebies.com for mailing address.)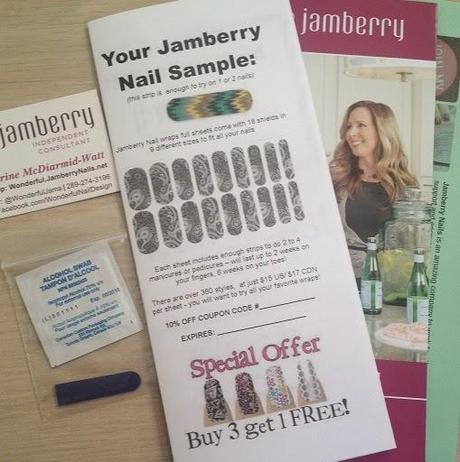 Inside your sample packet, you will receive the following:
 •  one [1] sample nail wrap strip - enough to cover one to three nails, depending on the length of your nails
 •  one [1] alcohol wipe to prep your nails
 •  one [1] mini-nail file to finish off your wrap application.
 •  a brochure fully explaining your wrap application and two methods of removal
 •  a brochure about
Jamberry
parties, business opportunity and my business card
 • 
Special offer
- Buy three [3] wrap sheets and get one [1]
FREE!
 •  Your very own
10% off CashBack Coupon Code
- to use on your next order!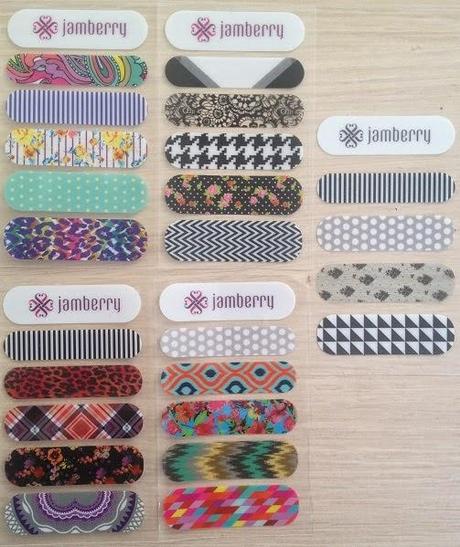 Assorted wrap designs shown
no specific design choice available
$1.50 for US addresses
:
$1.10 for Canadian addresses
:
☑
Would you like to earn free and discounted Jamberry Nails products?
☑
Would you like to earn extra money while enjoying a flexible schedule?
Email catherine (at) frugal-freebies.com for more information!
*The Fine Print: This promotion is only valid on your purchases placed with Catherine Watt, Independent Jamberry Nail C

o

nsultant - not any other consultant or thru the Jamberry Nails company.
Non-transferable - for your personal use only.
This C

o

upon code is offering 10% cash back from the subtotal of your purchase, before shipping and taxes. 
If  your purchase is returned, the Cash

Back amount will be deducted from your return total.

 
This Coupon Co

de can only be

applied to

one

purchase per code.
This Coupon Code is not applicable for purchase of Consultant's Kit, nor is it valid on party purchases
. 
This Coupon Code is not for use on the Jamberry

website. 
To receive your Cashback, once you have placed your order on the Jamberry website, you must email me your

C

oupon

Code along with your Paypal link.

 
Cashback is paid thru Paypal only, upon shipme

nt

of your purchase. 
T

his Coupon Code expires

5

weeks after sample shipment.
*Sorry at this time samples and purchases are only available to those with a US, Puerto Rico, Guam or Canadian address per Jamberry Nails consultant agreements.
NOTE -
If any of the above links are not working or the freebies or coupons no longer available, please post a blog comment below and I'll edit it!
---
QUICK FREEBIE TIP:
Filling out form after form can be quite tedious. To make this process faster, you can use autofill software. Autofill software remembers information such as your name and address and automatically fills in the blanks for you on forms. Roboform is a great free autofill software download.
Click for more quick freebie tips
---
•
Enjoying all the freebies? Want to keep up with the latest free stuff, deals, coupons, and other ways to save money? Subscribe to
Frugal Freebies'
email updates or RSS Feed
! - it's free!
•
Check us out on Twitter, and join in the conversation of even more great freebies, deals and coupons on our
Frugal Freebies
fan page on Facebook and
Google+. We are even on Pinterest!
More Frugal Blogs and Websites:
•
Born to Love: All your cloth diapering needs, and much more - naturally! We are strong advocates of the personal, social and environmental benefits of natural parenting.
•
Frugal Baby Tips: Money-saving tips on diapering, diaper washing, safety, slings and baby carriers, toys, clothing, nursing, menstrual needs, traveling with kids, more!
•
Jamberry Nails: The hottest trend in nail design. Get high-end nail art without the fuss of polish - or expensive salon visits! Like us on Facebook!
•
Oshawa Journal: A Step Back in Time to the Village of Oshawa - historical family timelines, news clippings, birth/marriage/death/grave records, photos and stories of the people I am researching, as well as the history of streets and houses in the village of Oshawa.