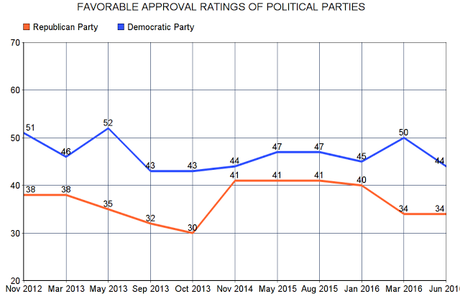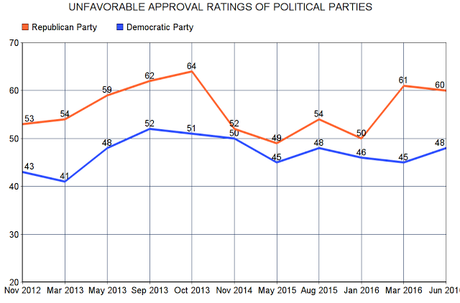 Most political pundits are still saying that Democrats have a 50-50 chance of flipping the Senate this year, but the Republicans will retain control of the House of Representatives. I think the Democrats have a 75% to 80% chance of flipping the Senate, and a 50-50 chance of taking control of the House.
One reason is the disorganization currently reigning in the GOP. They have a terrible candidate heading their ticket, and it is very likely that his coattails will be very short indeed. In fact, many Senate and House GOP candidates are struggling to figure out whether to align themselves with Trump or not.
The second reason is illustrated in the charts above. While both parties are upside-down in approval from the public, the Democrats have a 10 point higher approval rating (and a 12 point lower disapproval rating) than the Republicans have. This gives Democrats a 22 point net approval advantage.
Add to this the fact that the Republicans disagree with the general public on most issues (raising the minimum wage, protecting Social Security and Medicare, taxing the rich, stopping the export of good jobs, protecting the environment, job creation, reducing college student debt, etc.), and I think the coming election could be a real disaster for the Republican Party.
The charts above were made from information in a new CNN / ORC Poll -- done between June 16th and 19th of a random national sample of 1,001 adults, with a 3 point margin of error.