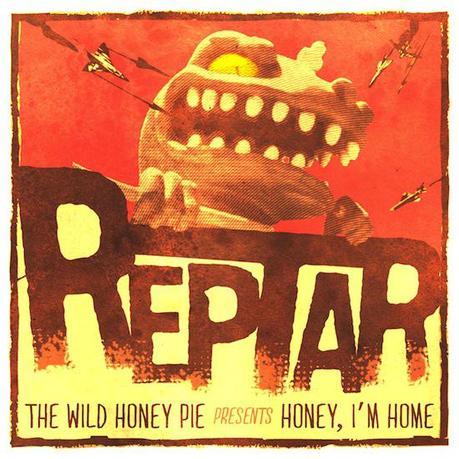 During their most recent trip to New York City, Athens, Georgia rock band Reptar was able to find time to stop by our Ditmas, Park home studio for one of our Honey I'm Home sessions.  We're all pretty huge fans and wanted to make sure the room really reflected their upbeat infectious sound.  When the band showed up, the team had just finished covering the walls with reflective gold wrapping paper and had moved on to stringing up the brightly colored bulbs that criss-crossed between the band members.
The guys were really beat when they got there.  They had just finished up their tour (we saw them on their last night at Music Hall of Williamsburg) and I think our session was the last thing they had to get out of the way before they got back home to Georgia.  I was a little worried that it was going to show in the performance but, as you can see in the videos below, they ended up nailing it.  And I think the slightly stripped down setup they had worked out great!  Watch both videos below and download the audio as a live session mini EP of sort using the Soundcloud embed.
Graphic design courtesy of the very talented Adam Kesner.  He is an illustrator and graphic designer who works here in NYC.  He is also a platinum member of the clean plate club.  You can find more of his work here.
Take a look at all the sessions we've done here.  Yellow Ostrich, Tokyo Police Club, Freelance Whales, Rubik, Gardens & Villa, King Charles, The Jezabels, and more!
Please click the "like" button below if you dig what you see.
'Honey I'm Home' is a live session series made by The Wild Honey Pie.  With each new episode, we welcome a different band into Sounds Like A Fire home studio in Brooklyn and record intimate versions of two or three songs which are given away for free.