TAKEAWAY: Reporting from Sweden today, as my so called Scandinavian Tour continues.
Extra, Extra: the big headlines are here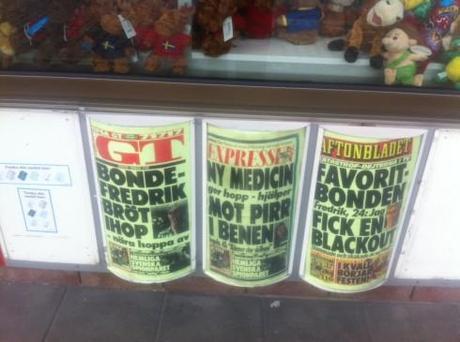 I am always fascinated by those giant, somewhat old fashioned, headline posters that one sees in many countries around the world, particularly in Latin America, Asia and, of course, the Scandinavian countries.
They are usually yellow, with big, bold 400 point clunky letters that scream headlines at those passing by the outside of a store where newspapers are sold, as you see this one in Goteborg, this second largest Swedish city on the west coast.
These posters MUST promote loudly to seduce people going by, so each day is apocalyptic, no matter what happened in the news, although I have to say that the newspapers doing this tend to be down market, and their usual fare is celebrity gossip, political scandals, and, yes, anything having to do with royalty.
It does not require a sort of "9-11" experience for the daily posters to shout.
Indeed, I do see people catching a glimpse of the headline, although I have no idea how effective these posters are to lure people inside the store to get an actual copy of the newspaper.
In my career, I have had to deal with "designing" the street poster in several occasion, not that it was difficult: simply take the boldest, thickest headline available and splash it there.  Any attempts to make these posters look slightly better, quieter or more refined, are usually turned down.
Viva the newspaper posters, another reminder that not only have we survived, but we thrive loudly and with robust type specimens in the streets of the world.
A new app for the Goteborgs Posten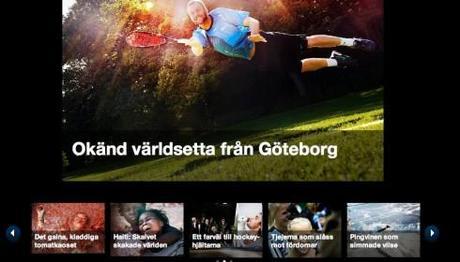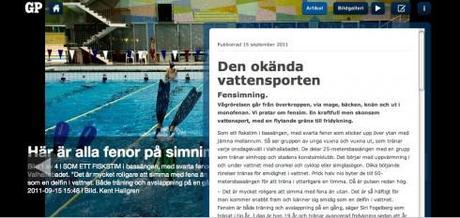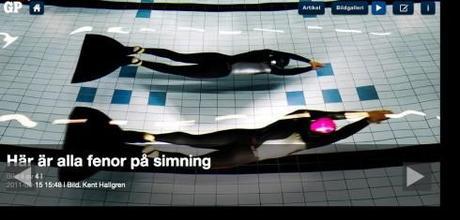 Just about to premiere: the new Goteborgs Posten iPad app.
This first effort, I am told, is mostly a photo-driven app, and the photos are stunning.  For article reading, a window opens up to the right of the screen where the text appears.
I am spending the week with the GP team, and, although I have not been involved directly with the creation of their first iPad effort, I am participating in meetings with the team to discuss how they can take their 1.5 edition to the next level.
Here are some samples of what this first app edition will look like.
More on the subject later as I meet with the digital guys today Friday.
Of special interest today

- USA: Hearst To Convert All Sites to HTML5
http://www.foliomag.com/2011/hearst-convert-all-sites-html5


- Video: WSJ's Alan Murray: The iPad Has Driven the Paper's Video Programming Expansion
http://www.beet.tv/2011/09/wsjvideo.html

- The British are coming: Guardian hits U.S.
http://www.crainsnewyork.com/article/20110914/FREE/110919945

TheMarioBlog post #857