This is the weekend edition of TheMarioBlog and will be updated as necessary; next new blog post is Monday, December 19
TAKEAWAY: This is part 3 of our blog post on what I call the Arab Spring of newspaper design in the Middle East region.  Today: An interview with Roberto Canseco, art director of the newly redesigned Kaleej Times of Dubai   ALSO: Weekend follow ups for some of this week's posts.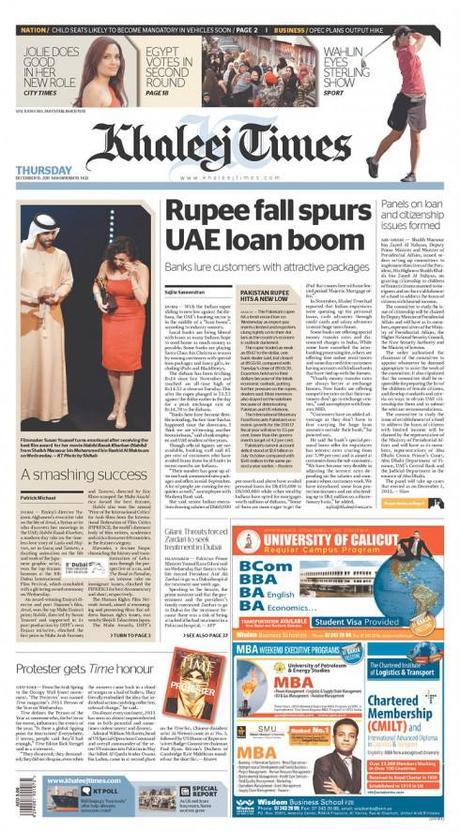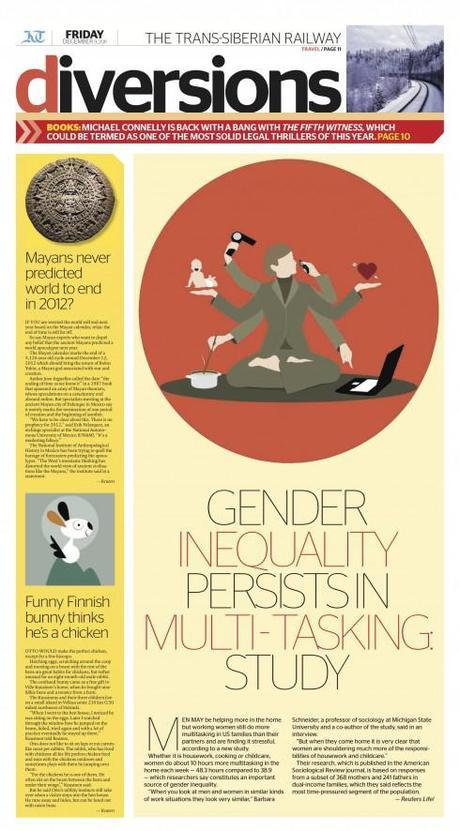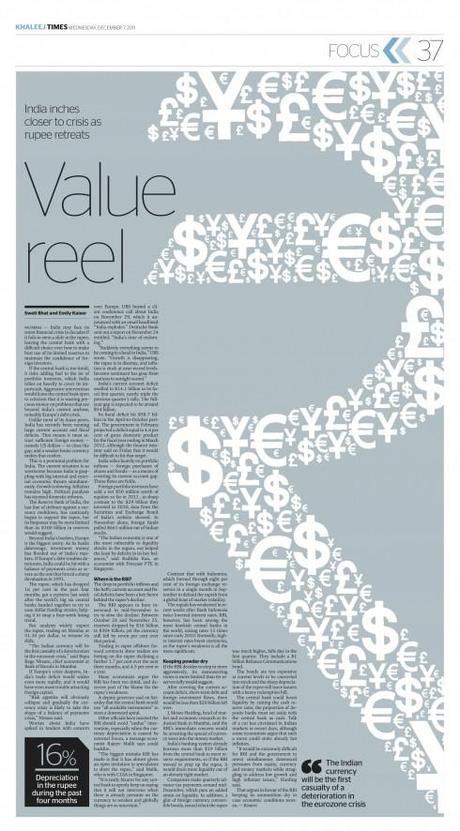 A selection of pages from the newly redesigned Kaleej Times
Three questions for Roberto Canseco, art director, Kaleej Times
As I have mentioned earlier, I arrived in Dubai this time to find a newly redesigned Kaleej Times——clean, elegant, well organized and easy to read.  I have taken the opportunity to interview the KT's art director, Roberto Canseco, who directed the redesign.  Here is our three-minute interview with Roberto.

1. Roberto, you have managed to make some distinctive changes to Kaleej Times. How difficult was it to bring about the changes?
The most difficult part was to analyze our resources and deficiencies which the newspaper currently has, and then proceed to create a design that would be easy to execute by anyone in the design team, regardless of what section they worked for, while creating new ways of storytelling.
2. The KT was redesigned three years ago by Pentagram, how much of that design did you keep?
At first, our idea was to maintain as much of the original Pentagram style as possible, to avoid making the change too drastic.  However, upon realizing that the principal problem was that the redesign itself had become a sort of Frankenstein within the newspaper, we decided to eliminate as much as possible of that old design, and start fresh with styles that would better adapt to the reality of the Kaleej Times of today.
3. How do you feel about the state of newspaper design in this region?
I think that there is a lot of talent in the various newspapers of this region, and, above all, it is admirable the effort they are making to improve communication, developing new graphic resources as well as those that go hand in hand with the new technologies in their various platforms.  It is that which the Kaleej Times is also doing, entering a new era to focus our efforts and to be at the same level as the other media.
Our first two blog posts on the Arab Spring of design in the Middle East
Report from Dubai 1:
http://www.garciamedia.com/blog/articles/report_from_dubai_design_has_its_own_arab_spring_in_this_area
Report from Dubai 2
http://www.garciamedia.com/blog/articles/report_from_dubai_2_design_newspapers_thrive_in_the_region
Follow up: Times Union signs up to get new printing press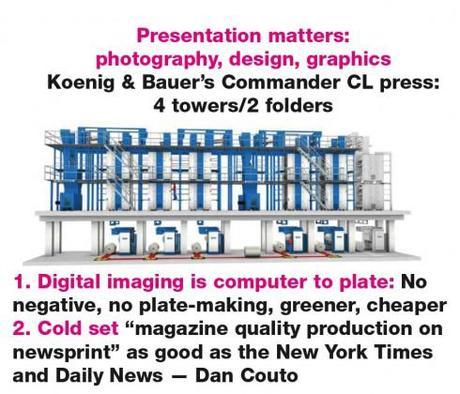 Configuration of new Commander press for the Times Union of New York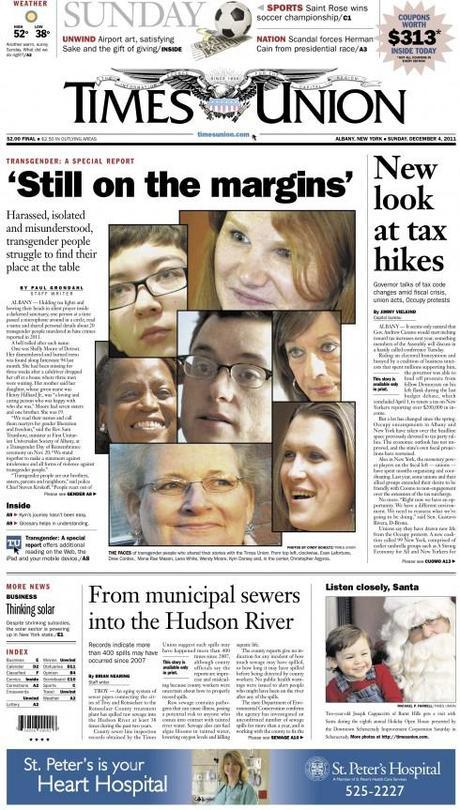 Here is a recent front page of the Times Union, now appearing in a broadsheet format, but considering a smaller size now that new press has become a reality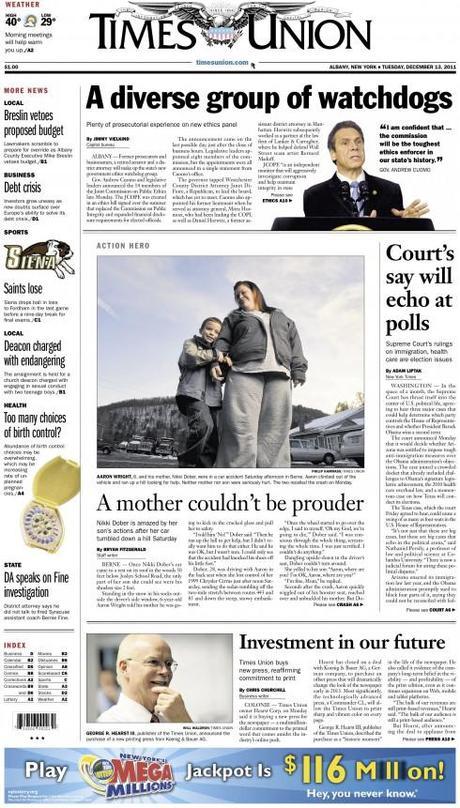 Front page in which Times Union announces acquisition of the new printing press—-story appears at the bottom of the page

Earlier this week we reported that the Times Union of Albany, New York, had just signed up an agreement to get a Commander CL offset press from Koenig & Bauer AG, a German company.
Now, editor Rex Smith has sent us the illustration above, which illustrates what the new press will be able to do.
Our earlier blog:
http://www.garciamedia.com/blog/articles/it_is_a_good_news_for_print_day—as_times_union_signs_up_for_brand_new_prin
Previous blog posts about design in the Middle East:
Times of Oman: the design awards just keep coming in
http://garciamedia.com/blog/articles/at_the_times_of_oman_the_design_awards_just_keep_pouring_in

In Oman: the two little desert trains that could
http://garciamedia.com/blog/articles/in_o/

Times of Oman goes for total rethinking, redesign
http://garciamedia.com/blog/articles/times_of_oman_goes_for_total_rethinking_redesign
Basic ingredients for iPad design stay close to the basics, plus more Times of Oman
http://garciamedia.com/blog/articles/basic_ingredients_for_ipad_design_stay_close_to_the_basics_plus_more_times_
About Times of Oman redesign
http://garciamedia.com/blog/articles/moschino_it_is_the_best_youngest_logo_for_al_shabiba_wins
Our work with Al Shabiba logo continues
http://garciamedia.com/blog/articles/sunday_updates_our_work_with_al_shabiba_logo_continues/
An interview with Arabic type designer Nadine Chahine
http://garciamedia.com/blog/articles/my_ipad_review_its_an_a_nadine_chahine_interview_and_more
Designing with Arabic calligraphy: the joy and the challenge—participate in it!
http://garciamedia.com/blog/articles/desig/
Design of An Nahar: Lebanon
An Nahar: one week later follow up
http://garciamedia.com/blog/articles/an_nahar_one_week_later_follow_up/
Related:
http://garciamedia.com/blog/articles/an_nahar_and_hindustan_one_day_after_launch_of_new_look
http://garciamedia.com/blog/articles/two_garcia_media_projects_launch_tuesday_an_nahar_lebanon_hindustan_india
http://www.creativematch.com/news/customized-typeface-for-lebanon-s/100106/
TheMarioBlog post #915