This blog will be updated throughout Wednesday

TAKEAWAY: It is very satisfying to see the excitement about visual thinking and design for newspapers in this region of the world.  With newspapers still enjoying success both with readers and advertisers, design thrives, art directors get hired, and space is given to designers to expose their creativity.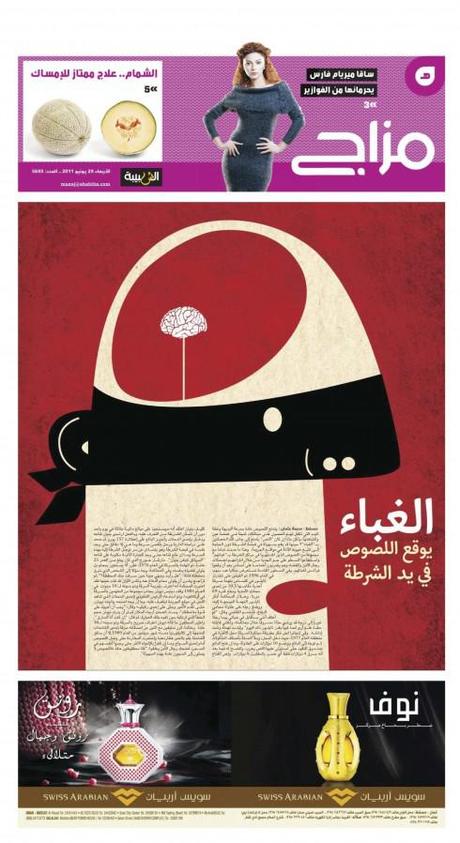 Page from Oman's Al Shabiba—-design director, Osama Aljawish

Just like there is the so called Arab Spring to refer to those uprisings that are changing the political landscape in so many Arab countries, there seems to be an upbeat sense of discovery, renewal and visual awakening in the Middle East.  I am in Dubai this week and, as someone who comes here several times a year to work with the team of the Gulf News, already an award winning newspaper for its visual thinking, I am becoming aware of the changes taking place with several other titles.
For this visit my discovery was to see that the Kaleej Times, one of the English language dailies in the United Arab Emirates, has streamlined its design, adopted a narrower page format, and totally clean its design, creating hierarchy, offering much better use of photos and overall providing the readers with a pleasant experience.  And in what constitutes a first for the area, its design director, Roberto Canseco, gets named with the editors in the newspaper's masthead, on the editorial page. This is progress.
Meanwhile, in neighboring Oman, those guys at the Times of Oman (English title) and Al Shabiba (its Arab language sister paper) continue to perform visual magic, under the able direction of that most talented art director, Adonis Durado, with whom we have worked before, including at its present position.
I asked Osama Aljawish, art director for Al Shabiba, to send me some samples of his latest work, and I know you will enjoy seeing here too.
TheMarioBlog post #912