Even though we're not renting I sometimes prefer to decorate in a way that allows me to change my mind without having to do major repairs to ceilings and walls. That way I can go whimsical but then  easily pare it down when the time comes to sell and appeal to the masses. Or when I just want something different.
This is a simple idea on how to get an airy canopy bed with minimal impact on ceiling and/or walls. We have a four poster bed but you can really do this with any kind of bed. I used to make a similar canopy in a rental a few years back and it looked great even though we only had a headboard on that bed at the time. This time around I only had to pay for the curtain rods which I found at the thrift store for a few dollars, the rest I had on hand.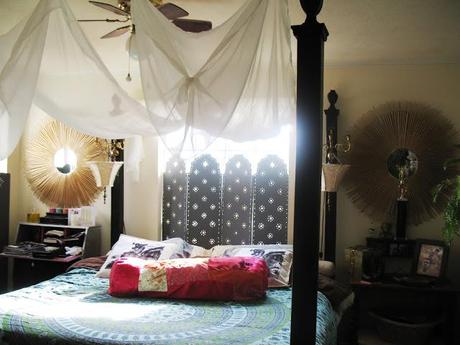 So all you need for this is two long lengths of flowy fabric, the more lightweight the better, some thumb tacks, string, tissue paper and the optional curtain rods. The fabric I have is some kind of synthetic I got at the fabric store years ago. If you're wanting to do this I would suggest looking at places like Big Lots in their curtain section for window scarfs or similar. Minimal or no hems are best.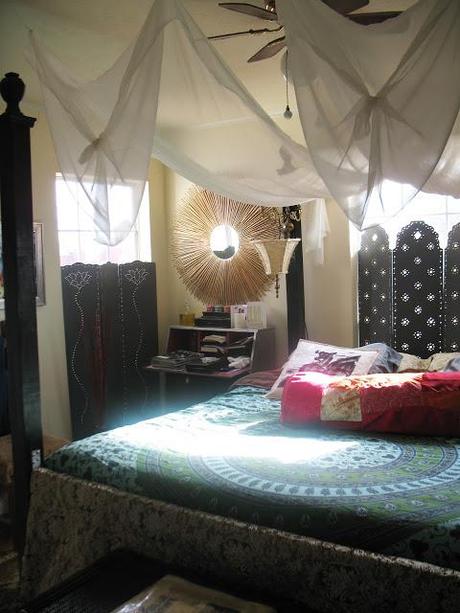 I have my two lengths of fabric hanging parallel over the bed because I thought it looked clean and simple.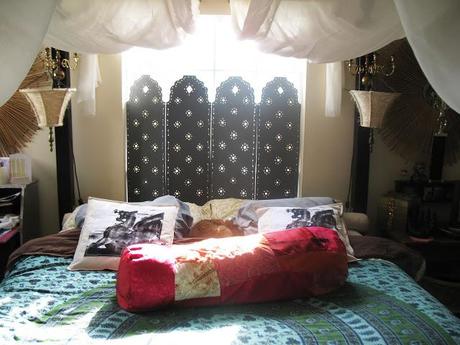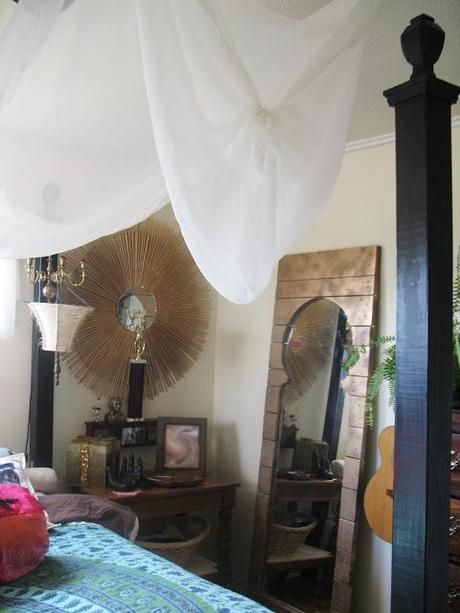 The foot board attachment points are right at the end of the bed and the fabric hangs down a little bit to give the bed the feel of an enclosed space.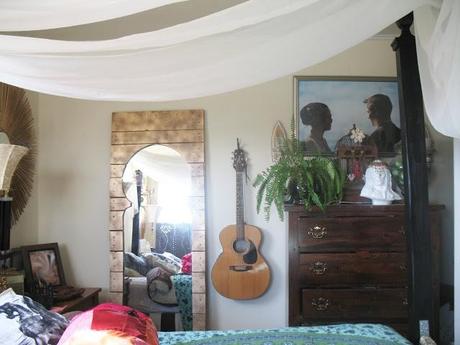 In order to hang your fabric without making any holes in it take a pinch of your fabric near the selvage, insert a little ball of tissue paper into the pinch of fabric to make a kind of "fabric ghost head" just like you do when making ghosts for Halloween :) Then you attach your string to the ceiling with a thumb tack, make a slip knot and slide the slip knot around the ghost head and tighten. "Hang" the ghost, if you will.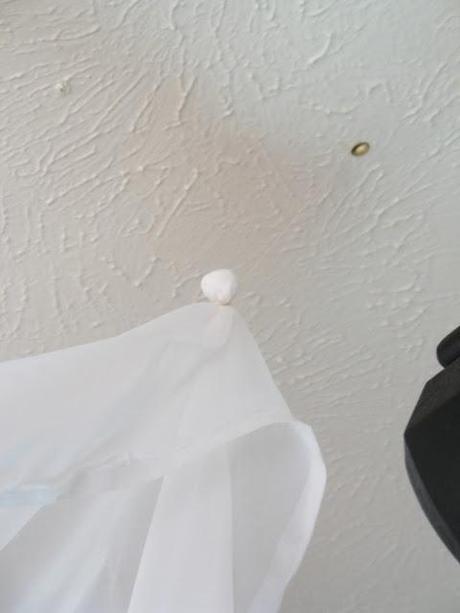 This is why the fabric needs to be lightweight. Do this in all four corners of the length of fabric if you want to. When you want to change things up you just loosen the noose and take the fabric down. The thumb tacks make such tiny holes your landlord will not be able to spot them after the tacks come down. Use white tacks on white ceilings or paint to match what you have (I'll dab some white on mine and they'll be virtually invisible).
I styled the loose end of fabric at the foot end by casually tying the corners together, but you could just as well do something else.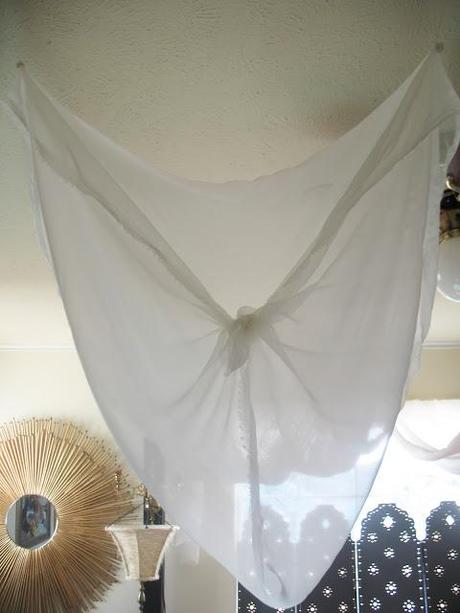 I decided to hang the headboard side of my canopy on light duty curtain rods above the window and draping the end around it, then tying a knot. I keep the fabric from slipping off the rod by adding scotch tape folded over on itself (sticky side out) between the fabric and rod but double sided tape would be ideal for this. I just didn't have any on hand :)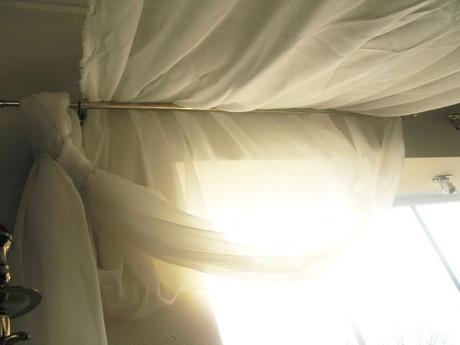 It's a matter of taste how you decide to style this kind of canopy. In my rental years ago I had the lengths of fabric form a huge X over the bed instead of running parallel to each other and I finished with a loose knot at the foot of the bed. It works either way :)
Now, go forth and make a canopy bed!