New to little Indiana? Subscribe for free to my RSS feed. Thanks for stopping by!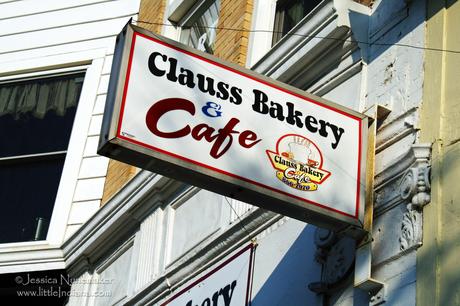 Clauss Bakery and Cafe in Rensselaer, Indiana
Rensselaer, Indiana
Rensselaer, Indiana Bakery
Open at 5 AM, farmers in the off-season congregate. little Indiana and family, however, didn't arrive quite that early! We were on the hunt for donuts and coffee–and lots of it!
Luckily for us, Clauss Bakery and Cafe had plenty of them. Long Johns, Bear Claws, Danishes, coffee cake, Cinnamon Twists, and more, well, we took our time in deciding.
I went with a Blueberry Donut, Hubs had a Cinnamon Twist, and Kid #1 had a few Doughnut Holes.
Indiana Bakery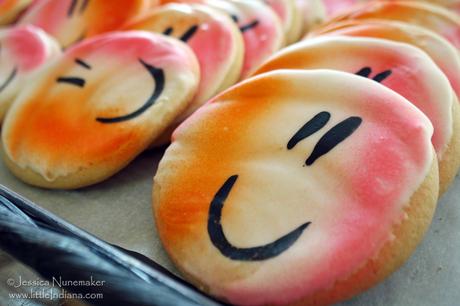 Clauss Bakery and Cafe in Rensselaer, Indiana Cookies
Like any good Indiana bakery, they've got more than doughnuts and pastries! We browsed the glass cases, drooling over the goodies inside.
Kid #1 was all about the cookies. What fun seasonal cookie designs!
That day they had smiley faces, but I've heard that they change their design to go along with the season.
Word on the street has it that this is the go-to place in town for cakes. Don't'cha just love a good bakery?
Breakfast and Lunch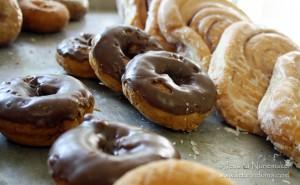 Clauss Bakery and Cafe in Rensselaer, Indiana Doughnuts
Since we arrived a bit late, we were able to see Clauss Bakery and Cafe get ready for the lunch crowd. This Indiana town establishment boasts a soup and salad bar.
I've had the pleasure of having a Mushroom and Sausage Soup from them. Creamy and delicious. Wow was it good!
I'd love to make it back and check out what's for lunch! Maybe even bring home some of their famous soup for my family.
I should have grabbed a bag of rolls–they looked so good! But you know me. I was distracted by all the sweet stuff! Next time, next time.
See Clauss Bakery and Cafe images and other pictures in Indiana on my Flickr photostream.
Clauss Bakery and Cafe
110 W Washington St.
Rensselaer, Indiana 47978
219.866.7970

View Larger Map
little Indiana: Where to Stay, Play, and Eat in Small Towns in Indiana. Discovering Indiana's best small towns! Now get little Indiana on your Kindle.
Targeted. Relevant. Affordable! little Indiana advertising.