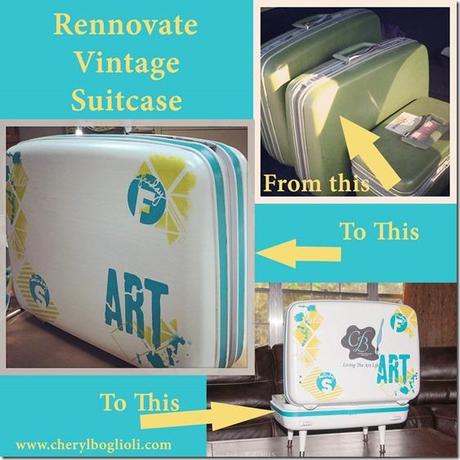 What started out as a worn out vintage suitcase has turned into an eye-catching piece of luggage as well as a table display.  I bought a whole set of suitcases bought on one of my trips to Maine.  I wanted a fun piece of luggage for Glinda and I also decided to use this as a display so I'll show you how to take the renovated suitcase to create a tabletop display as well.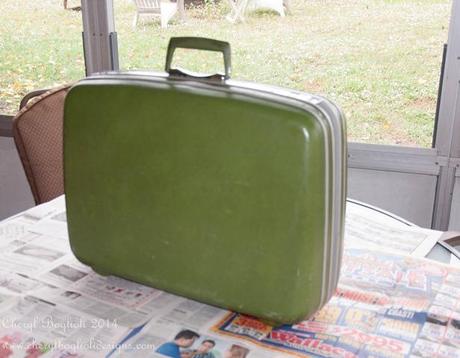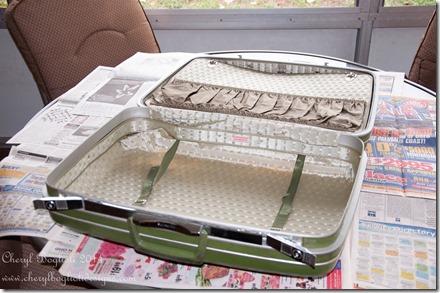 Some people might be a little disappointed as this was actually in really good condition for an old Samsonite, but it wasn't reflective of me and my style.  Let's create something artistic.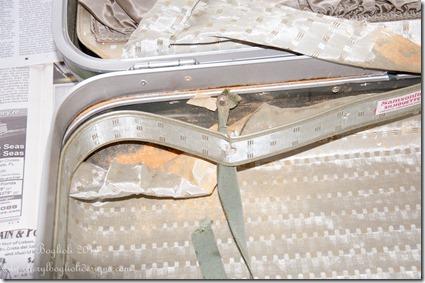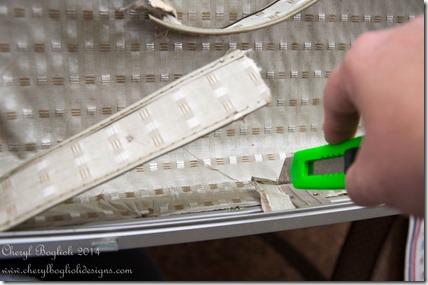 #1.  Remove inner lining.  Use a utility knife where needed to cut away from hardware.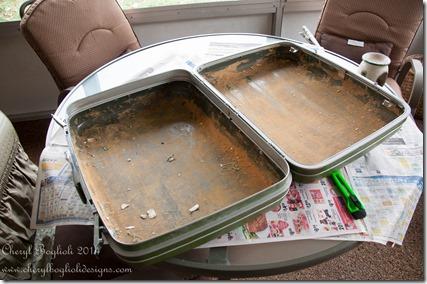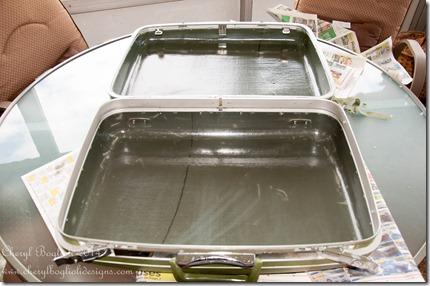 #2.  After removing inner lining, use soft brush, soap and water to wash old glue from suitcase interior.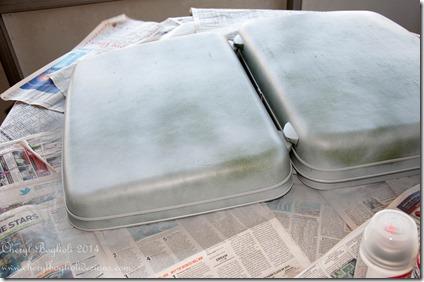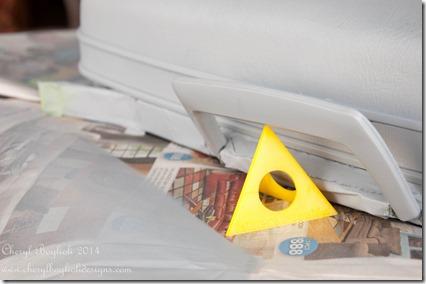 #3.  Tape any hardware you do not want painted.  I only taped latches.  Begin painting suitcase exterior with several thin even coats of primer.  I used Krylon gray primer first to neutralize the dark green followed by Krylon white primer for a bright white base.   Note how I used a painters triangle to hold up the handle so I could paint all around it.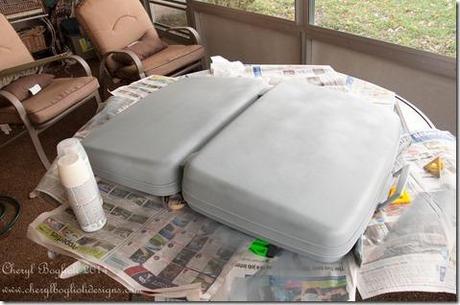 #4.  After suitcase is primed, follow with several coats of white paint.  I used 3-4 coats of Krylon Satin White.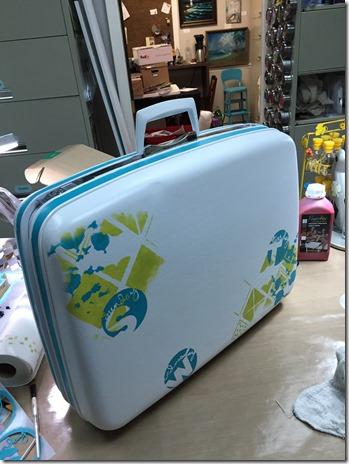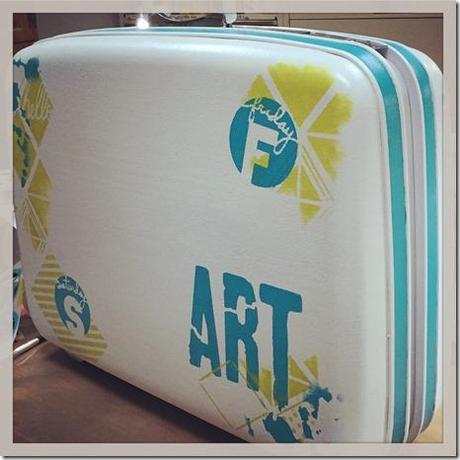 #5.  Decorate as desired with paint.  I used DecoArt acrylics and The Crafter's workshop stencils to add my designs.  If stenciling, use a cosmetic sponge and dab most paint off before stenciling remembering that less is more.  I handpainting the turquoise trim on the sides with a small paintbrush.  I also added my logo using Craft Attitude film.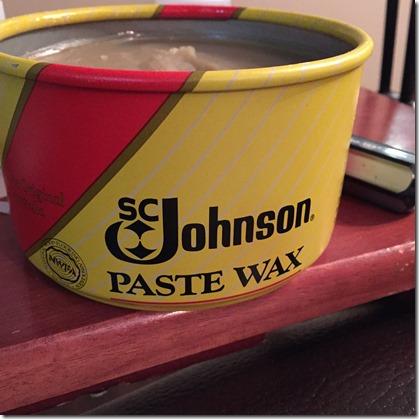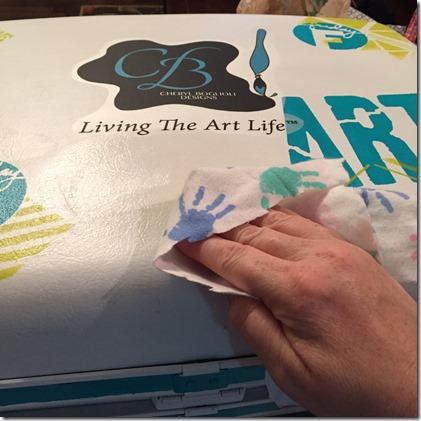 #6.  After paint is completely dry, I used paste wax to finish my suitcase and protect my artwork.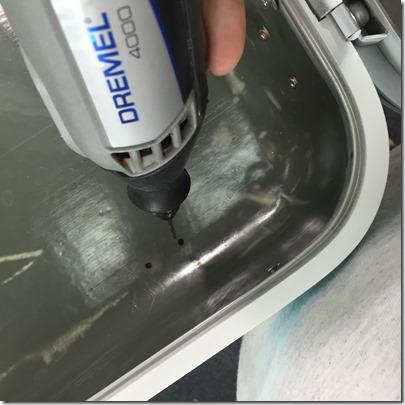 #7.  If you want to add hinges or additional hardware, now is a good time to drill your holes for hardware.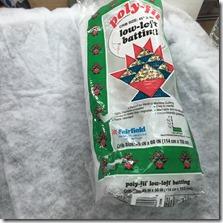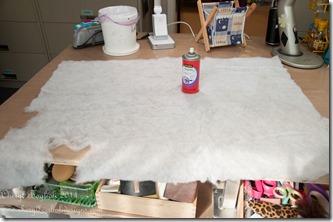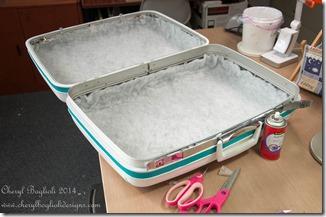 #8.  To recover suitcase interior, I used Fairfield World low-loft poly-fil and Scotch Super 77 spray adhesive to adhere batting to interior of suitcase, trimming around inner edges.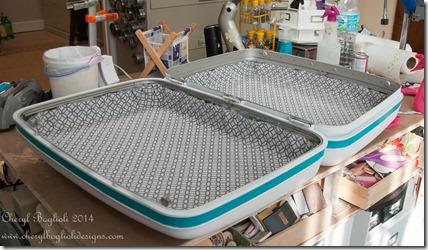 #9.  Following the same procedure used in step #8, add fabric of choice.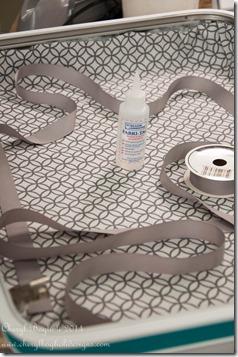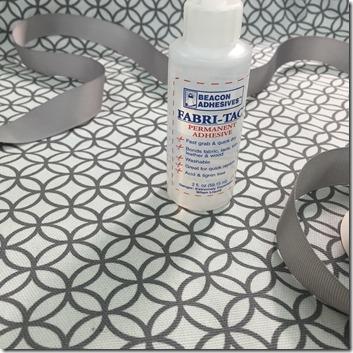 #10.  Adhere ribbon on interior to hide raw edges of fabric.  I used Beacon Fabri-Tac.  It held fast and strong.
Now, if you only wanted this for a suitcase, this would be complete!  However, I also wanted to use it as a table display.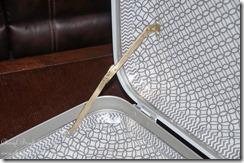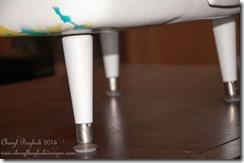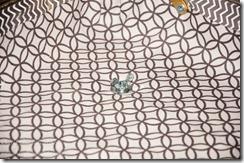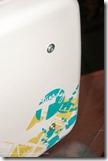 I pierced the holes through the fabric that I drilled for hinges and for table legs.  I installed hinges.  I also added small table legs that I had painted white.  When traveling, I can remove the legs and use small bolts and wing nuts to cover the holes.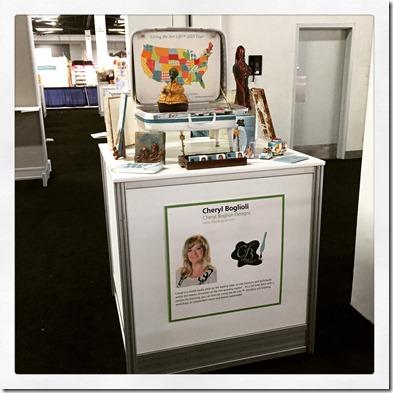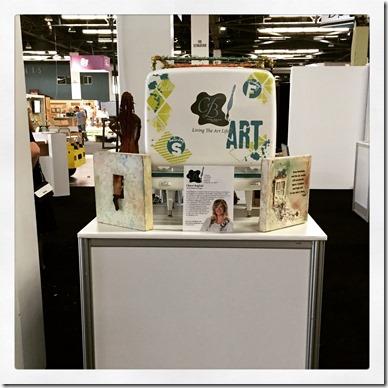 I used the suitcase as part of my CHA Designer Display.  I was able to carry most of my artwork in the suitcase as travel on and then quickly set it up as the center of my display.  I love that I can use this as a regular suitcase for traveling and it fits as a carryon for most airlines or I can use it as a display whenever needed.  Now I am Living the Art Life™ in style when I travel.