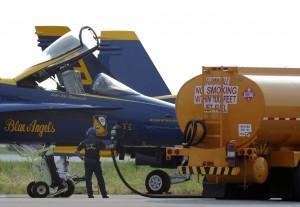 After a surprisingly smooth Senate hearing last week, retired Vice Admiral Dennis McGinn is likely to be confirmed as the Navy's next assistant secretary of energy, installations, and the environment.  McGinn, who was formerly president and CEO of the American Council On Renewable Energy (ACORE), has signaled he will continue the Navy's shift toward renewable energy, particularly biofuels, citing uncertainty over the availability and cost of oil in the coming decades.
"The whole rationale is the bottom line of the Navy, which is combat effectiveness and operational efficiency," McGinn said. However, that basis hasn't quelled the concerns of many ranking Republicans, including Senators John McCain (AZ) and James Inhofe (OK), who argue that the biofuel investments are too costly, especially amid shrinking military budgets and furloughs. McGinn's predecessor, Secretary Ray Mabus, came under sharp criticism after the Navy purchased $12 million of biofuels (at $27 per gallon) for maneuvering exercises last summer for the carrier strike group, "Great Green Fleet." Using traditional fuel, the exercise would have cost roughly $1.5 million. That's an eye-popping difference, though total biofuel spending accounts for just 7 percent of the military's $1.6 billion budget for energy efficiency.
McGinn will likely face additional hurdles while promoting biofuels. The boom in fossil fuel production may continue to shift attention from renewables to domestic oil and natural gas. Furthermore, the House recently passed an amendment that limits the Pentagon's authority to invest in the biofuels program. And while biofuels can help alleviate concerns over oil scarcity, it still isn't efficient to produce and offers no operational advantage (i.e., more range or faster cruising speeds) over oil, so long as the wells don't run dry.
Nonetheless, NATO and foreign navies are interested in biofuels. Italy's Navy, for example is testing new-generation biofuels from non-food biomass and algae in warships this year. NATO's Assistant Secretary General for Emerging Security Challenges put it well: "All in all, in financial as well as security terms, our fuel dependency creates a lose-lose situation."
Image By U.S. Navy photo by Mass Communication Specialist 2nd Class Kiona Miller [Public domain], via Wikimedia Commons. Visit Page