I'm an advocate for renewable energy...not in a large way you understand, just purely a personal view. When we had our large house in Buckie we heated it with mainly wood that we collected either from the beach or from the leftovers of forest felling (with permission).  It was with great glee that we would scour the high tide mark for bits of kindling...a bag full of bits could give a warm bath. After a storm we'd work our way along the coastline, collecting and cutting washed up timber- often that included some rather exotic species or bits of wooden ships! This fire heated ten radiators so was quite a boon and my only regret was that it was inset and not a stove top...as I would have used that too!
When I lived in Aberdeen,  as a youngster, many areas of Scotland were being flooded or utilised for Hydro power. I recall my Dad driving over roads that would soon be flooded as water rose and we'd take trips to see newly constructed Hydro electric power stations. Why only last autumn I returned to see a dam at Trinafour, where I'd had a photo taken when I was quite young! I've also been inside the mountain at Cruachan to see that power station.
On a trip  to Switzerland  I walked round a huge underground complex of waterfalls from melt water from the Eiger that generated electricity, that was wondrous!
I'm always captivated by Victorian engineering and admire their audacity and ingenuity in their construction of reservoirs, railways, canals etc. Why some planned towns and stately homes  had their own source of electricity.
The picture below shows the wind farms in the U.K.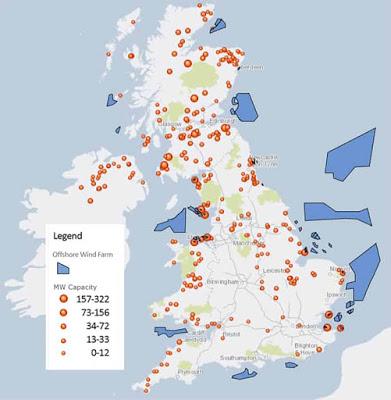 Today mankind is searching for ways to produce energy inthe form of electricity without causing ecological problems. Along the lower reaches of the River Lune there are fields of solar panels, that I find quite fascinating. As a hillwalker I am aware of wind farms and I don't mind them as such, in fact they provide good waymarking! As one drives across the border into Scotland , forests have been cleared and wind farms now cover the same acres. Many car parks are supplied with 'charging' points for electric vehicles too. Yes. I like renewable energy..or at least the wise use of this resource.   I had solar panels fitted to my home several years ago. I'd enquired about wind energy but the maintenance of a wind turbine was very expensive....so solar won. It's not much I know, but I've halved my monthly electricity bill by the wise use of what I'm producing. So when the sun shines I use electrical appliances...I vacuum clean, I sew, I bake and cook, I cut the grass...I fill flasks with boiling water to last into the evening. Unfortunately batteries to store the power are terribly expensive and very large. The excess goes to the power company and the National grid, for which I get paid.   I believe that all new houses ought to be built to be as energy saving as possible...so insulation should be top notch, solar panels should be fitted, rain harvesters provided...BUT house builders won't do this, NO they build quick, cheap and sell high. It's a win situation for the energy providers too!   But that's enough of my views and rants and a return to the theme for this week of  
'Power and Energy'
. My poem for this week was written some time ago when I walked on the North side of Clougha Pike looking for Andy Goldsworthy's constructions, that I knew to be somewhere on the site of an abandoned limestone quarry. Having found them I not only admired the corbelled structure and the grand views but also the wind turbines across into Littledale.  
Andy Goldsworthy's Constructions
Three silent sentinels amid the moorland heather Facing southwards, all three, facing wind and weather. In line- not touching- brothers in stone together
Openings facing out towards the sunrise As if in a silent scream of sudden surprise At the view to Yorkshire and Ingleborough rise.
Three alone in a quarry of lime, A boulder strewn landscape forgotten in time Where men once grafted, faces drawn in grime.
Three silent sentinels that tell of the past Of  a labor in quarrying - not to last - Shortlived, essential once, but gone too fast.
Three brothers side by side never linking, One eye each looking out, unblinking. Where across the valley turbines turn unthinking.
Linked together across the ages forever. Technology old and new bound together. Many silent sentinels standing in the heather.     Thanks for reading, Kath.
Email This
BlogThis!
Share to Twitter
Share to Facebook
Reactions: