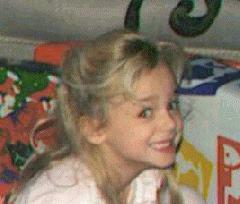 JonBenét Patricia Ramsey was an American child beauty pageant contestant who was murdered in her home in Boulder, Colorado, in 1996. The six-year-old's body was found in the basement of the family home nearly eight hours after she was reported missing. She had been struck on the head and strangled. The case after several grand jury hearings, remains unsolved.
I lived in Winter Park, Colorado when this story broke. And even though I have been Remote Viewing for over 7 years, I have never thus far, looked at it…until now.
Remote Viewing this target in the blind, the data showed that JonBenét was killed by a violent blow to the head, by an enraged, dark-haired woman. The data also pointed to heavy staging of the death scene, in which an older man was involved.
I have not RVed the dark-haired woman, but presume it to be Pasty Ramsey. Considering the lack of other suspects, I can safely say that Pasty killed her daughter in a rage and then staged it, with the help of her husband, to look like an intruder did it.
Let's keep in mind that the Ramsey's had a state of the art alarm system, which was never activated.
Pasty Ramsey died June 24th 2006, after a battle with ovarian cancer. Considering no one is likely to reopen this case, this post is solely for dissemination of information.
Rest in peace, JonBenét.