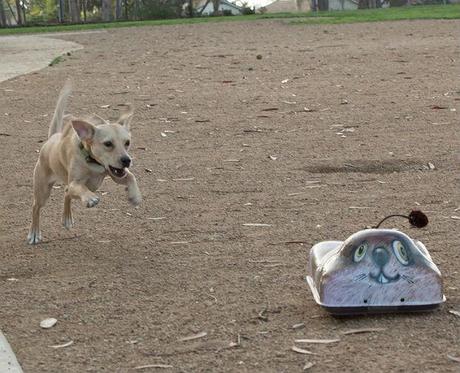 Tossing a stick for your pooch — such a classic move. But the future of canine exercise is looking a lot more robotic ever since a remote-controlled "woodchuck" hit the dog park scene.
The remote-controlled "Go-Go Dog Pal" toy, made by a Southern California company, sports a lightweight, hard plastic cover painted to look like a woodchuck. Underneath is a high-torque dual motor and four-wheel drive that propels the toy up to 22 mph on compact surfaces. The toy weighs less than 4 pounds, runs on a rechargeable nickel-cadmium battery, has electronic speed control and a long-distance, 2.4-GHz digital, radio-control system.
"Dogs naturally like to chase because that is really what they were born to do," Go-Go Dog Pals founder William Bowen told Gizmag.
You might be shaking your head, wondering just how lazy a dog owner would have to be to use one of these things. But there are times when a remote-controlled toy like this could be extremely helpful. Several dog-owning friends of mine have bad knee problems, so by using something like this they could still give their dogs solid workouts without having to run around, too.
There's only so much you can do when you're taking the dog — or dogs — out while caring for a small child. Some of the photos on the Go-Go Dog Pals site show a lady and a kid sitting together while working the controller. Not a bad idea, especially if you've got a toddler inclined to run.
Since each of the toys costs about $300 online, I'm guessing that this company will see some intense competition from other dog toy-makers soon. If you're a DIY type, you could probably rig something up using a kit, but it would need to be super durable and safe. And there's always the trusty alternative: throwing a stick or ball.
The Go-Go Dog Pal does look like it can hold up under doggie rough-housing. Here's a video showing a dog named Kota chasing the toy around:
~Courtesy of Discovery News