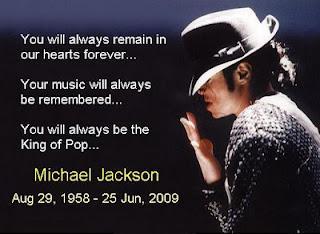 It's been three years to this day since the shocking death of the King of Pop, Michael Jackson. 
Where were you when he died? 
Me?   I was just walking up the stairs of the school that I work in.  As soon as I entered the classroom, students were doing the moonwalk and all of MJ's mannerisms.  I was like, "What's going on?"
Then they told me the news…and my jaw hit the floor.
Well, in honor of the greatest entertainer of all time, I'm going to list down my favorite 10 favorite songs of his.  Long live the King.
10.  I just can't stop loving you

 
9.  The way you make me feel



8.  Pretty young thing



7.  Don't stop till you get enough

6.  Human Nature

5.  Thriller

4.  Man in the Mirror

3.  Beat it

2.  Billie Jean



1.  Smooth Criminal

What are your favorite songs of Michael Jackson?